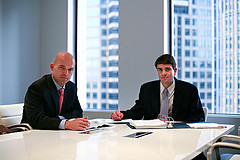 Atlanta, GA (PRWEB) November 12, 2015
Last week, a Gwinnett County State Court jury returned a $3,700,000 million verdict on behalf of a father of four arising out of a January 19, 2012 car accident.
According to the Complaint, Plaintiff Walter Smalls was driving his 15-year-old daughter to school when Defendant Maria Camarillo failed to yield when turning left, causing Plaintiff's vehicle strike her vehicle.
According to trial testimony, Plaintiff did not complain of pain immediately after impact but rendered aid to his young daughter.
Witnesses testified that Plaintiff rode in an ambulance with his daughter to the hospital but did not receive any medical treatment from the EMTs on the scene or in the ambulance.
According to doctors who testified at trial, Plaintiff did not complain of low back pain at the hospital and was treated and released.
According to documents filed with the court, the weekend following the accident, Plaintiff felt a sharp pain in his low back. He began treating with a chiropractor but his pain continued to worsen. Plaintiff sought further treatment with a pain specialist and then an orthopedic surgeon. Plaintiff's extensive medical treatment included multiple epidural injections and two spine surgeries.
"Mr. Smalls and his doctors did everything they could to help him get better." Commented trial attorney Jeff Shiver. "Unfortunately, it appears he will have back pain for the rest of his life."
According to Mr. Shiver, prior to filing the lawsuit, Plaintiff made four separate policy limits demands for the Defendant's $25,000 insurance limits. The insurance company denied all four opportunities to settle the case and protect Defendant.
Plaintiff was also represented at trial by Atlanta attorneys Mark Issa and Miguel Castro from the Issa Law Firm.
About Shiver Hamilton:
Shiver Hamilton is a Georgia personal injury firm specializing in significant personal injury, negligent security, premise liability and representation of victims of rape or sexual assault. Shiver Hamilton provides its services free of charge unless the victim recovers compensation. To learn more about the firm, please visit http://www.shiverhamilton.com or call 404-593-0020.