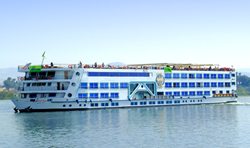 Egypt still manages to offer exceptional value for money and to be able to see all of these incredible sites in just 4 or 5 days is amazing. - John McCallum, Managing Director
Buntingford, Hertfordshire (PRWEB UK) 24 June 2014
These shorter cruises are an ideal way to discover some of the most remarkable archaeological sites in the world whilst spending time relaxing on board a 5* Nile cruiser. Travellers can experience 6000 years of history as they cruise the Nile Valley, exploring the Pharaoh's tombs in the Valley of the Kings as well as visiting the great temples of Karnak and Luxor on the East Bank in Luxor, the Temple of Queen Hatshepsut on the West Bank, and the impressive temples of Edfu, Kom Ombo and Philae.
John McCallum, Orbital Travel's Managing Director, commented: "These shorter cruises offer great flexibility as you can still see some of the 'greats' of Ancient Egypt whilst relaxing on a cruise as well as other highlights. Egypt still manages to offer exceptional value for money and to be able to see all of these incredible sites in just 4 or 5 days is amazing."
The cruises can be combined with a relaxing stay on one of the Red Sea Resorts or a stay in Cairo to visit the Great Pyramids at Giza and the Egyptian Museum.
Prices for a 3 night cruise and a stay in Cairo and Aswan leads in at £949 per person and includes 3 nights' accommodation on a 5* Nile cruiser on Full Board with 9 excursions escorted by a qualified Egyptologist, 2 nights' accommodation on B&B in a 5* hotel in Giza with 2 days full excursions in Cairo with an Egyptologist, 2 nights' accommodation on B&B in a 5* hotel in Aswan, all flights and transfers.
Orbital Travel offers five 5*Nile Cruisers including the MS Orbital Royal Esadora, the MS Monica, the HS Nile Vision, the MS Mayfair and the MS Orbital Goddess.
About Orbital Travel:
Orbital Travel is an independent Tour Operator and has been operating since 2003. They are Nile Cruise specialists and also offer tailor-made holidays to the Indian Ocean and Cyprus. They have recently introduced Croatia coastal cruises and European river cruises. For more info visit http://www.orbitaltravel.co.uk.