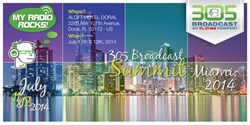 Welcome to the Latin American Market, Welcome to the 305 Broadcast Summit 2014
Miami, FL (PRWEB) January 15, 2014
The Latin radio scene in Miami is back.
After celebrating its 5-year Anniversary, 305 broadcast, in conjunction with Alfonso O Lopez's past experiences organizing events in the Miami Area for the Broadcast industry, has decided that it is time to come back and make history again with the 305 Broadcast Summit 2014.
The year 2014 is expected to be extremely promising for many countries in Latin America. Some of these countries have had recent socio-economical changes impacting private and governmental sectors, increasing the possibility for new investments in the Broadcast industry and opening doors to new trades with the United States. As a matter of fact, according to the Latin Focus Consensus panelists, the projection for regional GDP growth is estimated to be up for 3.2% on 2014.
For this, we would like to welcome you to the first edition of the 305 Broadcast Summit 2014, to be held in the city of Miami, the trade show where Latin American Radio Broadcasters and Technology providers will meet to share news and updates about the latest technology in the industry.
We have selected an exclusive group of speakers from different companies in the industry, ranging from information to entertainment, that will conduct seminars during this two-day event, and we want you to be part of it. The 305 Broadcast Summit will take place on July 11th & 12th, 2014 at the ALOFT HOTEL in the city of Doral, FL.
Welcome to the Latin American Market; welcome to the 305 Broadcast Summit 2014!
For more information about the show, please email us at info(at)305broadcast(dot)com.
305 Broadcast
Marketing Department