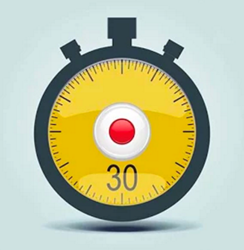 30 Seconds Can Change Your Life™
New York, NY (PRWEB) January 31, 2017
There are millions of game-changing ideas swirling around in the heads of innovative and creative people all around the world. These are the kind of ideas that are poised to change the world -- if only they can garner the right kind of venture capital to make the journey from ideation to creation. Finding the kind of funding that supports this just got a whole lot easier with the release of the free 30 Second Pitch™ app.
The 30 Second Pitch™ app is designed to streamline the process of securing qualified angel investors to provide the needed funding to take ideas to reality. Available from both iTunes and the Google Play store, the app enables seconds-long pitches to be recorded right from a device and be submitted instantly -- all in just a few taps.
Once the individual is satisfied with his or her particular pitch or recording, it is submitted straight to a pool of highly-qualified angel investors who are eager to provide the venture capital needed to fund the next great idea. The best pitches are extended invitations to present their ideas to a motivated group of investors in their offices in New York City. Once there, entrepreneurs are exposed to valuable feedback and constructive criticism that is designed to help them make their idea more marketable. In addition, entrepreneurs have the opportunity to forge extensive connections and build their network of support if they secure an invitation to meet the dedicated team of angel investors.
Landing secure funding does not have to mean jumping in the tank to be with the sharks. Instead, pitches are guaranteed to be presented to the group of investors so each one has their undivided attention. The best pitches are provided with additional resources and support. This approach opens the door to innovative entrepreneurs from around the world to take advantage of the venture capital and expertise provided by some of the finest, most experienced and singularly dedicated angel investors in the business today.
The 30 Second Pitch™ app has a definitive place in the funding strategy of any forward-thinking entrepreneur. However, it is equally valuable for those business owners who have succeeded in getting their idea off the ground initially but who have found it difficult to secure the additional funding they need to continue to grow. The 30 Second Pitch™ app helps solidify the foundation laid by fresh new ideas and startups.
The 30 Second Pitch™ software is the free, innovative app for enterprising entrepreneurs. Designed to bridge the gap between ideation and fruition with support and venture capital from angel investors, using the 30 Second Pitch™ app opens the door of possibilities for the best ideas that are poised to become game changers. Download the app free or get in touch with the team. Learn more about the 30 Second Pitch™ app and the process of meeting with an investment team by viewing their YouTube video.