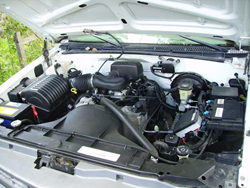 The 264 horsepower models we are now selling for the Equinox are used condition although now feature better parts protection
San Francisco, CA (PRWEB) July 21, 2015
The threat of imminent breakdown is one concern that consumers have after the purchase of a used condition vehicle motor. The Powertrain Guys company has made changes this month to its warranty policies that now affect several key brands. All used Chevy Equinox 3.0L engines sold this year will receive new warranty plans. Details about the new changes can be explored at http://powertrainguys.com/chevy-equinox-3-0-engine.
The policies now in place for expanded coverage are designed to provide more protection for two of the RPO editions that were used in the Equinox SUVs and other vehicles at GM. Both the LF1 and LFW editions are covered under the new terms to provide more assurance to 6-cylinder motor buyers. All GMT platform builds in 3.0-liter or higher sizes are included in the warranties.
"The 264 horsepower models we are now selling for the Equinox are used condition although now feature better parts protection," said one Powertrain Guys rep.
The High Feature series motors produced by General Motors and now acquired by the Powertrain Guys company are one example of new types of inventory now available to buy. The corresponding 6-speed automatic transmissions for the GMT sport utility vehicles were acquired and announced online last month.
"We are hoping to build a complete parts resource for buyers of components who cannot find a local supplier in their area," said the rep.
The offline customer service center at the PTG company will remain open through the upcoming holidays this year in an effort to provide more support. Consumers will be able to call 1-866-320-1065 with questions about inventory or warranty service plans.
About PowertrainGuys.com
The PowertrainGuys.com company is one main supplier of vehicle components that consumers use to find discount pricing on the Internet. The company is now presenting more inventory to people using its web portal this year. The PowertrainGuys.com company is now making transmissions, engines and other common components available for sale.