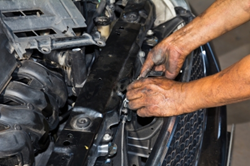 The V6 minivan used engines that we have acquired and listed on our website have already been reviewed for block quality and counts for mileage
Detroit, MI (PRWEB) July 30, 2015
The creation of the Sienna van series at the Toyota company in 1998 helped provide a solid foundation for more than a decade of sales in the United States. The Preowned Engines company is announcing its sale of 3.0L Sienna engines that are now available on its website. More details concerning block codes and price structures for these used editions can be found at http://preownedengines.com/3-0-v6-sienna-engine.
The 6-cylinder blocks added to the Internet warehouse inventory at the POE website were acquired by the purchase specialists at the main company warehouse. The versions now in stock are the 1MZFE series that were used primarily in the late 1990s to early 2000s series Toyota vans in the North American market.
"The V6 minivan used engines that we have acquired and listed on our website have already been reviewed for block quality and counts for mileage," said one seller at the PreownedEngines.com company.
The certified used Toyota 3.0L engines that are now a part of the exclusive inventory at the POE website are now positioned alongside the late model V6 units for sedan, hatchback and luxury vehicles from Toyota. Consumers with plans to review the inventory that is now listed can sort through the part numbers by entering the production year in the inventory finder.
"Apart from adding more classes of used vehicle motors, we've expanded our system of research to remove the requirement of vehicle identifiers other than manufacturing years," said the seller.
The Preowned Engines company is now featuring support for non-domestic pickup trucks through its acquired inventory. Consumers who do not currently need a used Sienna engine will able to explore or purchase 5.7L V8 blocks used in T100 trucks.
About PreownedEngines.com
The PreownedEngines.com company supplies a growing inventory of used condition vehicle motors that are for non-domestic and American cars. The company has changed its operational focus this year by including hundreds of automotive dismantling agencies to its network. The PreownedEngines.com company inventory ships with a fully supported parts warranty for all orders.