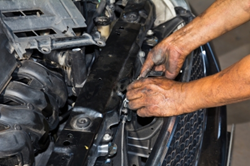 The EFI blocks are one of the most popular builds for Toyota enabled 2WD and 4WD vehicles, and we're now providing a lower price level for customers
Richmond, VA (PRWEB) June 23, 2015
The creation of more North American manufacturing facilities by companies like Toyota is making it easier for consumers to find replacement parts on the open market. The Preowned Engines company is now discounting its recently acquired used Toyota 3.0L EFI V6 engines through its truck inventory now presented at http://preownedengines.com/v6-efi-3-0-toyota-engine.
The applied low pricing is now applicable to the 3VZE series blocks that were used prominently in the T100 and 4Runner vehicles sold in the United States. The blocks have been evaluated for condition and verification of mileage to help consumers make informed engine buying decisions.
"The EFI blocks are one of the most popular builds for Toyota enabled 2WD and 4WD vehicles, and we're now providing a lower price level for customers," said a Preowned Engines specialist.
One issue that a person who buys a replacement pickup truck motor can experience is compatibility with older and newer technologies. The POE company now offers a warranty package that is provided free of charge that is designed to handle parts failures or other problems that could complicate block installations.
"The used 3.0 Toyota engines that are now for sale through our company are automatically included in our long-term warranty coverage plans," said the specialist.
The POE website has been upgraded this month to feature an all-new tool for locating product matches in the company warehouse. Consumers who are used to using SKU numbers or other block identifiers can now use a truck, car or van model year to search for foreign or domestic inventory available.
About PreownedEngines.com
The PreownedEngines.com company provides a web portal that can now be used by consumers in the U.S. to search for thousands of different automobile motors daily. The company uses top suppliers and dismantling companies to acquire what is available. The PreownedEngines.com company works with its partners to help provide a coverage warranty for each sale to the public.