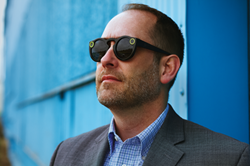 "Using Spectacles in tandem with Snapchat gives a business's potential customers an experiential video perspective, a first-person perspective.
Omaha, Nebraska (PRWEB) April 10, 2017
Omaha marketing entrepreneur Joseph Kenney has developed another groundbreaking marketing tool in the Heartland of America. It is the use of the new high-tech sunglasses, Snapchat Spectacles, that carry a tiny camera with a 115-degree field of vision plus a microphone.
Spectacles, which were quietly rolled out in the past six months, are the first hardware produced by Snapchat, a highly popular social media app. Snapchat allows its users to send videos and pictures, both of which self-destruct seconds after a person views them. Snapchat is also a messaging app.
"This fresh technology has huge business implications," said Kenney, founder and president of 316 Strategy Group, Omaha's leader in social media management. "Using Spectacles in tandem with Snapchat gives a business's potential customers an experiential video perspective, a first-person perspective and is captivating if it is handled with thought and purpose. We know how to use the technology, and it offers our clients another techy advantage."
Led by Kenney, 316 Strategy Group uses its award-winning digital-media team and web designers to create winning business strategies, build effective organizations and deliver marketing and sales results. 316 Strategy is known for evaluating cutting-edge technology and trends, and using them in ways that put their clients one step ahead in the marketplace.
A 20-year national marketing expert investigated Kenney's ideas for developing Snapchat Spectacles as a marketing tool and agreed that Kenney is a step ahead of his Omaha-area competitors and perhaps all other national competitors.
"For the first time, Snapchat has a video format that gives customers an experience that regular video content or photos can't capture. Other than Joe Kenney's 316 Strategy Group, I have heard of no one else who is developing this marketing tool," said Christopher Slater, chief marketing officer of Center Sphere, an established national network of business professionals whose mission is to share referrals, ideas, and resources. "Once again, Joe and the 316 Strategy Group have hit a home run for his businesses and potential clients."
Brian Lahm, president of GML Communications Inc. in Omaha, experienced the use of Snapchat Spectacles firsthand during a meeting at one of 316 Strategy Group's clients, The Omaha Bakery. "I liked what I saw. I'd have to agree with Christopher's assessment. Joe is always on top of new trends, especially in technology and social media. He understands both very well. I do not see any better way for reaching Snapchat's demographic – 13 to 38 – for marketing purposes. For those business owners who understand Snapchat and embrace Spectacles for what they are, an easy video-delivery mechanism that creates an unusual viewer experience, they will be rewarded with an expanded base of followers who crave experiential videos," Lahm said.
Kenney was eager to try the new technology when about 50,000 Spectacles were first released worldwide in vending machines. Even now, there are fewer than 70,000, including the one that 316 Strategy Group possesses. "Spectacles can help 316 Strategy Group and our clients get where we want to go. We are in position for experiential reality that will explode in the future," said Kenney, who could not conceal his enthusiasm for the technology's potential.
Imagine putting on a pair of special sunglasses, pushing a button and videoing 10 seconds of what you do in your business, showing potential customers a real-time hands-on view that is complete with superimposed messaging.

If you're a baker, frosting a cake or kneading dough comes alive in mouth-watering fashion.
If you're a contractor, sights and sounds of swinging a hammer captivate the viewers.
If you own a health club, pumping the bench press never looked more muscular … or sweaty.
If you're a pest exterminator, pulling sheets and seeing bed bugs never looked more disgusting.
If you're a home inspector who discovers rotted siding, your expertise never shined brighter.
Spectacles capture a 10-second video – or a maximum of three – and users add a caption or doodle or filter/lens over the top, and send the finished creation (called a snap). Spectacles come with four pieces of hardware: the glasses themselves, a charging case, a USB charging cable, and a cleaning cloth. The glasses are available in three colors: black, teal and coral, and the battery can power about 100 10-second snaps per charge with compatibility for Android and iOS. The Spectacles don't need to be in range of a user's phone to sync; once a user has paired the glasses with his or her Snapchat app, and once the Spectacles are back in Wi-Fi range of the phone, a user's recorded snaps will sync with his or her "Memories."
"Looking at Spectacles," Kenney said, "I have a sense of where we are heading for visual marketing experiences. I can only imagine the second and third generation of Spectacles and the possibilities for our clients to benefit. We are in at the ground level with this new technology. According to recent research, a mind-blowing 10 billion videos are watched every day on Snapchat. Should a business owner consider using Snapchat and Spectacles for his or her business? We have incorporated Snapchat into our strategies for businesses throughout the country."
Kenney added: "As much as we like the platform, we didn't expect to like Spectacles as much as we did." Kenney had other observations about Spectacles:
"With Snapchat, you should know that most first-time users are intimidated. Spectacles are very simple to use. It makes Facebook and Twitter seem like child's play. Snaps taken from Spectacles can be used on Facebook by transferring them to video and uploading them to Facebook."
"Spectacles are a bit pricey at $130, but the cost may come down. There are limitations, including the fact they are not waterproof. The Spectacles camera utilizes circular video, which plays full screen on any device, in any orientation. As a full-service video production house, we at 316 Strategy Group were impressed with the video quality. The audio could be better and will no doubt improve as the next wave comes out."
"I believe I will look back at Spectacles and GoPro as hardware technologies that helped create 'experiential' videos. A GoPro takes a certain amount of work, especially with the data transfer. With the Spectacles, it is immediate – as soon as it is done recording, it is ready to go."
"I recently wore them in the Haymarket in Lincoln and in the Old Market in Omaha. I had fun recording videos while I interacted with clients and passersby who had never seen a pair before. Spectacles feel like regular sunglasses, are comfortable to wear and look stylish, too."
"Whether you are a small retail shop or a bustling corporate office, Spectacles offer the possibility of capturing your products, culture and work life in a whole new light. Spectacles could shape the way brands approach their marketing strategies and impact Snapchat."
"Spectacles allow the business owner to have an almost hands-free video recording product where he or she can livestream an event, go behind the scenes, record a how-to video, or even interview someone without the camera being directed at them. This customer really can be in the shoes of the business owner."
Slater complimented 316 Strategy Group on "being nimble enough to jump on some of these opportunities in the market." He said large advertising houses often wait too long to make sure a new technology is going to have a long shelf life, while 316 Strategy Group can flex quickly to the needs of its local, regional and national clientele.
"Joe and I chatted about our live camera systems as well as the importance of Snapchat Spectacles in the live story/history," Slater said. "Joe and I agreed we probably aren't going to find troves of people wearing Spectacles in the subways of New York, on the beaches of California or the board rooms of corporate America, but for those business owners who embrace technologies like Snapchat, they will reap the rewards of giving their customers a first-person experience."