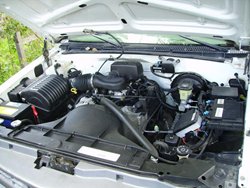 The Nova, Camaro, Corvette and other classic vehicles have used the 350 V8 block, and we are now helping people to find these units in good condition
Las Vegas, NV (PRWEB) August 29, 2015
Acquiring inventory for classic automobiles produced by General Motors has helped the Used Engines Co. company to grow its V8 parts inventory on the Internet since 2012. The company is now announcing its inclusion of 350 Chevy engines in used condition that consumers can evaluate or purchase online at http://www.usedengines.co/chevrolet-engines/350-chevy-engine.
The 5.7L small-block builds that are being provided have been sourced through different salvage companies, automotive dismantling agencies and recyclers across North America. Because mileage is one element that can vary between each block, consumers can inquire about the correct mileage at the time of purchase.
"The Nova, Camaro, Corvette and other classic vehicles have used the 350 V8 block, and we are now helping people to find these units in good condition," one rep at the UsedEngines.co company said.
The replacement 350 Chevrolet engine blocks now a part of the web inventory will receive specialized components coverage in the form of a warranty package for consumers. A large percentage of the V8 components will be protected through the plans in place. Consumers with questions about particular coverage can call customer support for additional information.
"It gets harder each year to find good suppliers of vehicle parts produced before 1980 although we are quickly building our reputation as a go-to outlet," said the rep.
Adults will now have the option to call the support department at (989) 891-9212 to ask about VIN information or other details for any motor block in stock. Trained experts are available to answer incoming calls during standard hours of business Monday to Sunday in the United States.
About UsedEngines.co
The UsedEngines.co company acquires various inventories of previously owned vehicle motors that are entered into its company database of sellable products daily. The UsedEngines.co company works closely with hundreds of nationwide salvage companies to post inventory and list pricing for consumers who are conducting extensive auto parts research.