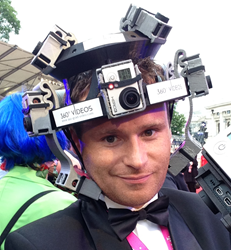 All eyes will be on you with the 360° video gadget!
Vienna, Austria (PRWEB) July 01, 2014
This special kind of camera holding device is worn like a helmet and at the same time, serves as a camera holder for up to 18 mini cameras (modular / variable setup). This enables to produce even more spectacular videos with an even better 360° view, without arduously carrying around a handheld camera device. The mini cameras that are put on the helmet can be controlled by a remote control and are mounted exactly in the same angle in order to ensure recording at the same time in all directions.
Link to 360 Videos: http://www.360-degree-video.com/pages/360deg-video.php.
This novelty enables to see what is happening in all directions and in every moment.
The development of this new gadget was realized by using a 3D printer, as a helmet made of metal would have been heavier and more difficult to construct the prototype concerning the necessary precision for the camera holder.
The videos can then be controlled in a very simple way by simple mouse clicks or by the arrow keys. In 360° Videos, users can navigate freely and can participate virtually in the action. One of main advantages is that it does impress everyone as most people have never heard of this innovation. Dimas: "It is therefore also very useful to impress your clients or friends and family by seeing the world from every perspective."
For this new camera holding technology no assembling on a car or any other holder is necessary anymore as the head serves for holding the camera. By using this device, impressions of riding a motorbike, skydiving, live-events or city tours are captured and serve as a nice memory for a long time. 360° Videos make it possible to look in all directions and the 360° Video helmet is an eye-catcher too if it is worn on the head.
"Making people curious about what a business is doing, is the first step in the right direction," tells Alessandro Dimas, and he speaks from experience here, as he is a pioneer in demonstrating what breath-taking 360° video - views can be achieved with his new device.
Of course the single videos are then cut and put together to one "straight" video and synchronized with the sound, as it is done when using the already known handheld camera holding device. Within a few seconds and without any special additional software the 360° Videos are ready to impress.
To get an impression, of what lies behind the 360° Video technology scan here:
360° Videos are available for businesses and private people in Austria and abroad and will.
Soon the helmet (excluding the cameras) will be available and can be purchased for $1,990 excluding tax and shipping.