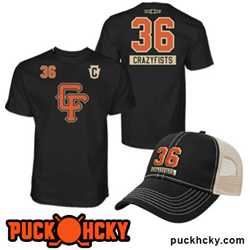 This is LOUD AS PUCK!
ROYAL OAK, MI (PRWEB) May 27, 2015
PUCK HCKY, LLC, in collaboration with the hard rock band 36 Crazyfists, is excited to announce the release of a collection of custom-designed hockey apparel with a metal edge.
The apparel line takes the spirit and culture of hockey, gives it a metal edge, offering fans of both worlds a more genuine and exclusive connection to the band members of 36 Crazyfists. In addition to blasting great music out of the state of Alaska for the better part of twenty years and amassing a global fan-base, the members of 36 Crazyfists are known for being intense hockey fans.
The designs get to their Alaskan roots with some haunting images of the Sitka (Alaskan state tree) combined with graphics from their new album, "Time and Trauma" out now via Spinefarm Records.
Since the band members are all long-time Philadelphia Flyers fans, you'll also find the 36 Crazyfists x PUCK HCKY take on the Flyers' alternate jersey.
"36 Crazyfists is happy to announce our collaboration with Michigan-based hockey apparel company PUCK HCKY. Combining heavy tunes and heavy hits into a really cool merch line between the two companies. F'n Rights!" said 36 Crazyfists lead singer Brock Lindow.
The apparel line is the first installment in PUCK HCKY's "LOUD AS PUCK" collection, a group of designs that bring the hockey lifestyle over into various music genres. "36 Crazyfists was a natural fit for us. Not only have we been a fan of their music for 15 years, but also the band members are total hockey freaks just like us," said PUCK HCKY CEO, Matt Marini.
Beyond the apparel collaboration, Matt and Brock also write a weekly hockey column together on Metalinsider.net called Snipe City.
To view the LOUD AS PUCK collection, featuring collaborative designs with 36 Crazyfists, visit http://www.puckhcky.com.
ABOUT PUCK HCKY, LLC
PUCK HCKY, LLC is a Michigan-based brand development firm engaged in the design, marketing and distribution of PUCK HCKY branded apparel, accessories and media in the hockey affinity space. PUCK HCKY also has a Signature Series line of hockey apparel with Detroit Red Wing, Tomáš Tatar.
ABOUT 36 CRAZYFISTS
36 Crazyfists are an Alaskan metal band currently signed to Spinefarm Records. Their latest album "Time and Trauma" was released February 17, 2015. The band recently completed a European tour and is in the midst of a full North American tour supporting the album.
FOR MORE INFORMATION:
MATT MARINI
PUCK HCKY
248.633.5709
matt(at)puckbrands(dot)com