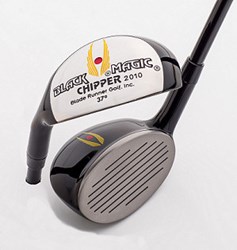 Blade Runner Golf Announces a Tour Model Chipper that is Versatile from 7 Iron Distances and Provides Success for Any Players' Skill Level.
Nationwide (PRWEB) December 06, 2013
Black Magic's 37 degree golf wedge is designed with a low center of gravity that naturally gets the ball up faster along with an iron face that has the leading edge wrapped completely around the heel of the club so players can adjust the face angle easily for different trajectory type shots. Golfers looking for the best chipping wedge that can be used for more than just bump and run shots should find the Black Magic 37 degree chipper a worthwhile addition to their 14 club limit.
Chippers have been around for a long time and are a favorite club for many amateur golfers although some chippers do not Conform to USGA Rules. Blade Runner Golf has designed a new chipper that Conforms to USGA Rules for even top level competition and with all the chipping wedge reviews to read, Black Magic's chipper is getting high remarks from not only amateurs but many pros that have put this club to the test. It would be fair to say that many or even most golfers have a favorite club in their bag that they have the most confidence with. It may be their driver that they feel they can work the ball to fit the situation at hand or a particular wedge that they can use for so many shots around the green. Blade Runner Golf is a company that has specialized in the short game for many years with their unique wedges that have been well received over the years and their all new 37 degree chipper fits in perfectly with their line of clubs.
What truly sets their clubs apart from other wedges is their unique design with a zero degree bounce angle at impact along with a no-hosel on the face with an extra wide sole. These features allow players to have a clear mind when they set up for a shot thinking only about where and how the ball will react when it hits that specific spot on the green.
ABOUT:
Blade Runner Golf, Inc. is a company devoted to the notion that a golfer's short game can make all the difference in his or her final score—but you can take your short game to the next level only if you have the right equipment. Black Magic's hybrid wedges Conform to USGA rules, but also helps golf enthusiasts find new precision and power as they make their way onto the putting green and they can be accessed on the web at: http://www.blackmagicwedge.com.
Contact:
Black Magic Wedge
10850 Dover Street
Suite 500
Westminister, CO 80021
Toll Free 877-799-6099