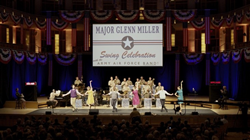 "It is an honor to be chosen to bring this program, and Major Miller's legacy, to such a large television audience." - Russ Hodge, Founder & President, 3 Roads Communications
FREDERICK, Md. (PRWEB) April 17, 2019
3 Roads Communications, Inc., of Frederick, Maryland, will be producing a one-hour public TV special honoring iconic musician Glenn Miller. Famous for standards including "Moonlight Serenade" and "In the Mood," Miller joined the US Army during World War II and led the Army Air Force Band. He disappeared while serving and his remains have never been found.
The public TV broadcast of the concert, "A Glenn Miller Celebration," honors Major Miller on the 75th anniversary of his disappearance over the English Channel. It is expected to begin broadcast nationally beginning Veterans Day, 2019. It was recorded on April 2, 2019, at the Strathmore Music Center in Bethesda, Maryland.
"We are thrilled to have been selected to produce this special program," said Russ Hodge, Founder and President of 3 Roads. "It is an honor to be chosen to bring this program, and Major Miller's legacy, to such a large television audience."
Glenn Miller standards such as "In the Mood," and "Moonlight Serenade," were featured. The USAFAirmen of Note provided the music. The concert was co-presented by Washington Performing Arts. Washington Performing Arts Artist-in-Residence (and host of WAMU's The Big Broadcast) Murray Horwitz emceed the concert—staged as a radio broadcast—with guest soloist Veronica Swift. The television special was recorded using twelve ultra HD cameras.
About the USAF Band:
The United States Air Force Band is the Air Force's premier musical organization. The excellence demonstrated by the Band's Airmen musicians is a reflection of the excellence carried out 24 hours a day by Airmen stationed around the globe. Each member is proud to represent all Airmen, whose selfless service and sacrifices ensure the freedoms we enjoy as citizens of the United States of America. Since its formation in 1941, this world-class organization has inspired billions of listeners through its exhilarating music, engaging concerts and masterful recordings and continues to positively impact the global community.
About 3 Roads Communications:
3 Roads Communications, Inc. is an Emmy Award-winning company with a long, distinguished history of supplying topnotch programming to Public Television and Amazon. 3 Roads has created and produced hundreds of hours of award-winning programming for public television, including:

Legends of Airpower, TV series
Frontiers of Medicine, TV series
For The Love of Their Brother, 2016 Documentary
The Truth About Money with Ric Edelman, TV series
Rescue in the Philippines, Documentary
Ric Edelman's The Truth About Retirement, PBS Pledge Special
Ric Edelman's The Truth About Your Future, PBS Pledge Special
For more information, please visit 3roads.com.