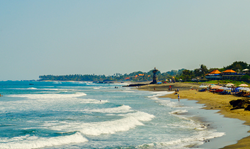 "They not only offer extraordinary value, but are rich in beauty and culture, with conveniences and luxuries that would come with a high price tag at home."
BALTIMORE (PRWEB) November 13, 2018
"A growing number of American retirees are discovering the charms of Southeast Asia," says Jennifer Stevens, Executive Editor of International Living.
"There's a lot to recommend the region—and the popularity of spots like Penang or Bangkok reflects that. But lots of communities worth considering for retirement remain well off the tourist or expat trail. They not only offer extraordinary value, but are rich in beauty and culture, with conveniences and luxuries that would come with a high price tag at home."
Our top picks for under-the-radar retirement locations in Southeast Asia are Chiang Rai, Thailand; Vũng Tàu, Vietnam; and Canggu, Bali.
Chiang Rai, Thailand
Chiang Rai is the real Thailand. Authentic and quaint, this small town in the north of the country is known for the glorious Wat Rong Khun, a looming white temple complex covered in unconventional décor—think skulls, monsters, and more. Though many tourists only pop over to Chiang Rai for a day trip to see the famous Buddhist structure, Chiang Rai makes for a great long-term retirement spot.
The White Temple gets all the fame (the nine white elaborate buildings, including a bridge and moat make for gorgeous photos), but the lesser-known Black Temples are even more enticing. A complex made up of over 40 structures and several gardens, the Black Temples aren't really temples at all. The eclectic buildings, designed by Thai artist Thawan Duchanee, are used as art studios, a home, a museum, and more.
Just a one-hour flight from Bangkok, the city's northern location is ideal for exploring. Residents can visit traditional hill tribe villages or the nearby larger city of Chiang Mai. There are also many trails in the surrounding area for trekking and hiking.
A couple can live well in culture-rich Chiang-Rai on $1,8000 a month including money to travel.
Vũng Tàu, Vietnam
Vũng Tàu enjoys a spectacular location on a peninsula jutting out into the South China Sea, 60 miles southeast of Ho Chi Minh City. Over the centuries it has acted as a safe anchorage for European trading ships, a headquarters for plundering Malay pirates, a retreat for Vietnamese royalty, home to a former French president, and an R&R retreat for soldiers during the Vietnam War.
More recently Vũng Tàu became the center of Vietnam's oil and gas industry, which brought a diverse mix of international expats to its shore and bundles of money to develop essential infrastructure.
Over the years, Vũng Tàu's cool sea breezes, long white beaches, manicured green spaces, and growing selection of top-notch resorts and restaurants, has made the city a favorite weekend getaway for those looking for a break away from Ho Chi Minh City. Most visitors to Vietnam never hear about it, let alone visit—but that's changing fast. Vũng Tàu has emerged as one of Vietnam's top beach locations and is home to a growing contingent of expats.
For a relatively small city by Vietnamese standards, there's no shortage of cultural things to do and see in Vũng Tàu. There are several historical sites in the surrounding area, including many from the war era, and a world-class Arms museum.
As a potential retirement location, Vũng Tàu offers a laid-back beach lifestyle, close to big city services without the hustle and bustle. The low cost of living is an added bonus and a couple can happily live on as little as $1,300 a month without sacrificing any of the comforts of home
Canggu, Bali
Canggu, on the south coast of Bali, is a melting pot of tourists, locals and expats. What lures most people to the area is that even though development is proceeding quickly, you can still live amongst lush rice paddies and green countryside. The town spans about five miles from Berawa beach to the village of Cemagi.
The coastline is fringed with lava stone temples, some of which are centuries old. At first the town might seem disjointed with the main three beaches being separated by rivers. Some streets are busy, but the roads and lanes leading away from the main thoroughfare are quiet. Local warungs (small family-owned business like restaurants or cafés) thrive and attract visitors and expats as do the more modern establishments.
The food scene is vegetarian heaven, with many places focusing on raw and healthy menus, but there's plenty of fish and meat served as well.
With the international airport only a one-hour drive away—and popular beach resort Seminyak only 15-minutes—Canggu offers a stress-free lifestyle. Here, a monthly budget of $1,400 is enough for a couple, including a housekeeper and rent for a two-bedroom villa.
The full report can be found here: 3 Great, Under-the-Radar Retirement Spots in Thailand, Vietnam, and Bali
Editor's Note: Members of the media have permission to republish the article linked above once credit is given to Internationalliving.com
Further information, as well as interviews with expert authors for radio, TV or print, is available on request. Photos are also available.
For information about InternationalLiving.com content republishing, source material or to book an interview with one of our experts, contact PR Managing Editor, Marita Kelly, +001 667 312 3532, mkelly@internationalliving.com
Instagram: https://www.instagram.com/internationalliving/
Twitter: @inliving — https://twitter.com/inliving?lang=en
Facebook: https://www.facebook.com/International.Living/
About International Living
Since 1979, InternationalLiving.com has been the leading authority for anyone looking for global retirement or relocation opportunities. Through its monthly magazine and related e-letters, extensive website, podcasts, online bookstore, and events held around the world, InternationalLiving.com provides information and services to help its readers live better, travel farther, have more fun, save more money, and find better business opportunities when they expand their world beyond their own shores. InternationalLiving.com has more than 200 correspondents traveling the globe, investigating the best opportunities for travel, retirement, real estate, and investment.