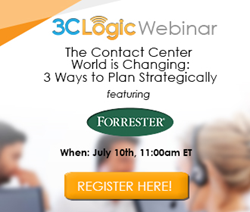 Rockville, MD (PRWEB) June 17, 2014
3CLogic, the leader in cloud-based contact centers solutions hosted on Amazon Web Services (AWS), today announced registration for its latest webinar is now open. The webinar, which will address the current changes taking place within the contact center space and how to plan accordingly, is scheduled for 11am EST on Thursday, July 10, 2014.
WHY ATTEND: There is a revolution underway within the contact center space as a growing number of companies begin to weigh the benefits of migrating to the cloud, multi-channel communication, the role of CRM services, and how to compete in a customer and data-driven world. The 3CLogic webinar will review the current trends taking place and address:

How to prepare and migrate to a cloud-contact center solution
How to leverage the unique benefits and avoid the common hidden pitfalls when choosing a cloud-based contact center solution
How to integrate CRM software services, multi-channel capabilities, and social media to provide best-in-class service
Hosted by 3CLogic, the event will be led by Robert Killory, 3CLogic's Chief Customer Officer, and guest speaker Art Schoeller, VP and Principal Analyst at Forrester Research.
WHEN: The webinar will be presented at 11am EST free of charge to any contact center representatives, as well as the general public. The presentation will be followed by a period of questions and answers and will also be archived for on-demand viewing.
To register, please click here. For additional information, please contact Carmen A. Harris carmen_harris(at)interprosepr(dot)com or 919-246-7376. Advanced registration is required and will close at 11pm EST on Wednesday, July 9, 2014.
WHO SHOULD ATTEND: The 3CLogic webinar is ideally suited for anyone seeking to understand the current trends taking place within the contact center space, including CIO's, Sales Executives, Customer Care Executives, and Contact Center Managers.
About 3CLogic:
3CLogic provides a cloud solution hosted on AWS and offers seamless integration with other cloud-based solutions, including CRM and WFM. Providing companies with a 360-degree view of all their customer interactions, regardless of the channel chosen, 3CLogic's solutions allow for a timely and accurate means by which to offer first call resolutions. 3CLogic clients enjoy a 99.999% uptime and scalability to help businesses quickly scale up or down their contact center flawlessly. Plus, In addition to all these fabulous features, 3CLogic has immeasurable company security so that customers can comfortably trust them with all of their data, media and information. 3CLogic provides customers with inbound, outbound, and blended contact center solutions alongside a 24/7 technical help line. For more information, please visit: http://www.3clogic.com.