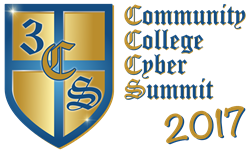 3CS is the premiere cybersecurity conference for community colleges.
National Harbor, Maryland (PRWEB) January 24, 2017
Educators and students are encouraged to submit proposals for the fourth annual Community College Cyber Summit (3CS) being held June 28 to 30 at Prince George's Community College and National Harbor, Maryland.
3CS is the only national academic conference focused on cybersecurity education at the community college level. 3CS shares with faculty and administrators the newest technologies, latest research, and most relevant resources for teaching cybersecurity to community college students.
This year's theme is "Strengthening Our Cyber IQ." Proposals for one-hour presentations and for three-hour workshops are now being accepted in any of these four tracks: 1) for faculty and colleges new to cybersecurity education, 2) for experienced faculty and programs, and for those colleges aspiring to apply for recognition as a center of Academic Excellence in Cyber Defense – Two Year (CAE2Y), 3) for teaching cybersecurity across the curriculum and throughout the nation's critical infrastructure, and 4) for students attending the 3CS Pre-Summit Job Fair. Knowledgeable students also are encouraged to submit proposals, either alone or with their professors.
The student track is new this year and will include topics such as student competitions, student clubs/associations, mentoring, summer camps, and developing competition teams. This will take place on the afternoon of June 28 for students who attended the 3CS Pre-Summit Job Fair in the morning. Students and recent graduates are encouraged to partake in the job fair, where they will have the opportunity to talk to potential employers.
"3CS is the premiere cybersecurity conference for community colleges. It is designed for a diverse audience, including those new to cybersecurity, students and experienced educators. The variety of presentations and workshops, led by experienced cybersecurity educators, allows attendees to tailor their conference experience to meet their needs. If you are an experienced cyber educator, we encourage you to submit and share your ideas and experience for presentations and workshops," said Philip Craiger, 3CS Program Chair.
All proposals are being accepted until February 15. Please submit at: http://www.my3cs.org/call-for-proposals.
About Community College Cyber Summit:
The Community College Cyber Summit (3CS) is organized and produced by the National CyberWatch Center, National Center for Systems Security and Information Assurance (CSSIA), CyberWatch West (CWW), Cyber Security Education Consortium (CSEC), Broadening Advanced Technological Education Connections (BATEC), and Advanced Cyberforensics Education (ACE) Consortium, which are all funded by the National Science Foundation (NSF). The outcomes of 3CS will leverage community college cybersecurity programs across the nation by introducing the latest technologies, best practices, curricula, products, and more. To learn more, visit http://www.my3CS.org.