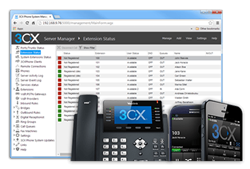 WebRTC enables 3CX to offer click-to-call and video calling.
Milwaukee, WI (PRWEB) February 24, 2015
The new and improved 3CX phone system, version 12.5, extends the software-based PBX to include WebRTC and other technologies. IP Phone Warehouse is excited to offer this latest version of 3CX to businesses seeking a powerful, affordable and non-proprietary PBX solution.
New features included with 3CX Phone System 12.5:

WebRTC integration
Click-to-call and video calling
Website and email call buttons/links
Improved 3CXPhone Mac client
Better 3CXPhone for Windows elevation
Support for more VoIP providers
WebRTC enables 3CX to offer click-to-call and video calling. Add an unlimited number of click-to-call links directly to a website so visitors can dial customer assistance or support from their web browser. Any of these calls can be escalated to a screen sharing session, so agents can provide better support and service.
Every extension on the 3CX phone system is provided with their own personal click-to-call link. Paste the link into an email, for example, and send it to customers. The click-to-call link can be used with voice and video calling, giving everyone the opportunity to enjoy video conferencing without requiring additional hardware.
Additional features onboard version 12.5 include the ability to return a blind call transfer back to the transferor, as well as automatic callback. The 3CXPhone Mac client now offers better echo cancellation, web conference scheduling and more. Escalate a chat through 3CXPhone for Windows to a WebRTC call instantly so more delicate matters can be handled professionally and with care.
More VoIP service providers, VoIP endpoints and phones are interoperable with 3CX Phone System than ever. Enjoy all of 3CX's great features and improve the PBX experience.
Contact IP Phone Warehouse by email: service(at)ipphone-warehouse(dot)com or phone: (888) 201-9056 to learn more about 3CX Phone System Standard Edition and 3CX Phone System Professional Edition, plus all of the incredible new features in version 12.5 of this software-based PBX.
About IP Phone Warehouse
IP Phone Warehouse is the leading specialty reseller of VoIP phones, video conferencing equipment, IP cameras and network devices. We're stocked with everything that small businesses and enterprises need to deploy reliable VoIP and video solutions. A dedicated customer service team and a wide range of available online resources support every product at IP Phone Warehouse.