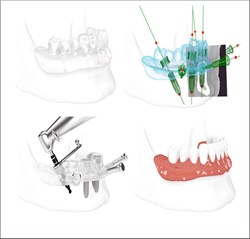 The use of 3D guided technology along with minimally invasive procedures are great news for our patients
Springfield, NJ (PRWEB) September 24, 2013
There are millions of dental clinics in the world but they are not all alike and AckSmiles is definitely unmatched when it comes to the level of devotion and dedication of its staff. Dr. Carranza at AckSmiles is an ardent propagator of minimally invasive procedures in dentistry and in his professional career he has always worked with techniques and methods that go along his motive. He's an expert cosmetic dentist but just as skillful in dental implants.
His constant efforts for the clinic have brought AckSmiles to the point that it has probably some of the best dental tools and equipment for the convenience of all dental patients. Patients are now able to have their teeth checked, scanned and treated within half the time they had to spend in getting the same treatments in the past. Furthermore, Dr. Carranza has done his best to incorporate only the latest technology in the clinic that has reduced chair-time for patients and increased the success rate of all procedures to a great degree.
Currently he's assisting his patients with dental implants, porcelain veneers, crowns, inlays, onlays, dentures, cleaning, whitening, invisalign etc. All these procedures are being performed with the latest software and tools available in the market. The patients don't even have to hold a metal structure in their mouth for x-rays anymore since Dr. Carranza has the latest tool that can scan the entire facial and oral cavity of patients from the outside.
Another great effort from the Dr. Carranza for his patients is the use of 3D technology in planning all of his dental implants. This means that all the procedures can now be simulated and imitated before they are actually performed in order to guarantee the safety of the procedure when it is actually performed. Furthermore, it reduces the time of the treatment to a great deal and patients don't require frequent visits of clinic to complete the treatment now.
The use of 3D guided technology along with minimally invasive procedures are great news for all dental patients to get their dental illnesses treated in less time and with more success than ever before. Patients who have been avoiding dental treatments due to the fear of the procedure can also take a breath of relief because Dr. Carranza is an expert of sedation dentistry as well. Now the dentist can take care of dental problems while the sedatives take care of the patients' problem of anxiety during the treatments.
About Dr. Aristo Carranza DDS, ASDA, FAFDE
Dr. Aristo Carranza is a former Clinical Associate Professor and Co-Director for the Advanced Aesthetic Program at New York University College of Dentistry. He is directing the Tristate Dental Institute and lectures for Hiossen Implants and Nobel Biocare (NobelGuide, NobelClinician, NobelProcera). He is a national and international speaker in the field of Implants and Cosmetic Dentistry. He's currently helping patients of New York and New Jersey.
Contact Information
New Jersey
155 Morris Avenue, Suite 3
Springfield, NJ 07081
Tel: 212.355.5655
New York
595 Madison Ave Suite 703
New York, NY 10032
Tel: 973.921.0505
Email: smile(at)acksmiles(dot)com
http://www.acksmiles.com