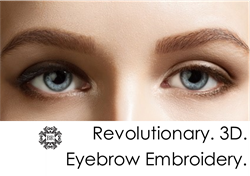 For those with chemotherapy hair loss or alopecia, this is life changing
Delray Beach, FL (PRWEB) July 28, 2015
The rage of power brows can now be achieved by anyone with the new, revolutionary 3D Eyebrow Embroidery. Introduced by Bella Reina Spa this week, the semi-permanent makeup technology creates the look of real, individual hairs.
This one-by-one hair strokes simulate real eyebrows. Although the color is semi-permanent, the technique lasts about two years. The eyebrow artists uses a feather technique that looks realistic and softer than permanent makeup.
Jo Anne Irwin-Diaz, the 3D Eyebrow Artist, says "it is transforming our clients' lives. For those with chemotherapy hair loss or Alopecia, this is life changing." Adds Irwin-Diaz, "This technique will gives you the eyebrow arches you've always wanted, without it looking fake or drawn on."
The process of the 3D Eyebrow Embroidery starts with a consultation in which the eyebrows are physically drawn on for "shape and size". There is minimal downtime and because the technique uses vegan pigments only on the surface of the skin. With traditional eyebrow tattoo, the color is deposited beneath the skin.
For more information on 3D Eyebrow Embroidery, call the spa at 561-404-7670 for a consultation. Prices range from $250 - $500 depending on whether it is a full eyebrow or a partial brow.
About Bella Reina: Bella Reina is the leading spa provider and definitive authority on luxury beauty, wellness, and spa treatments. Bella Reina was created by Nancy Reagan, a nationally recognized expert in beauty, skin care, and makeup. Nancy and Bella Reina Spa have been featured in the New York Times, Beauty High, Daily Makeover, WebMD, and Les Nouvelles Esthetique for beauty, spa industry and business expertise. To learn more about how Bella Reina is constantly innovating both spa services, spa series and shopping for beauty, please visit BellaReinaSpa.com or MiBellaReina.com.