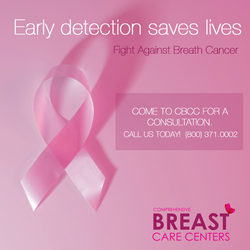 We are using the awareness around Breast Cancer Awareness Month to get the news out that we are offering this life-saving procedure at a steep discount.
Miami, FL (PRWEB) October 20, 2016
Comprehensive Breast Care Centers ("CBCC") has announced a new special for Breast Cancer Awareness Month. For only $99, patients can now receive a 3D mammogram, a very important diagnostic.
"We are using the awareness around Breast Cancer Awareness Month to get the news out that we are offering this life-saving procedure at a steep discount," said a CDI spokesperson. "Most people think that diagnostic imaging is routine – it's not; for some, a screening can be the difference between life and death."
CBCC Miami offers a comprehensive suite of diagnostic services to prevent and treat disease. For women looking to reduce, as much as possible, their risk of dying of breast cancer, they will choose yearly mammography starting at age 40. Early detection is critical for improving breast cancer survival, regardless of therapy advances.
Breast cancer is the most common cancer in women worldwide. In the United States, it is estimated that approximately 230,000 women will be diagnosed with breast cancer in 2016. Breast cancer continues to rank second, after lung cancer, as a cause of cancer death in women in the U.S., and is a leading cause of premature mortality for women.
Although breast cancer has declined steadily since 1990, largely due to improvements in early detection and treatment, and estimated 40,300 women in the U.S. will dies of breast cancer in 2016. Early detection is associated with reduced breast cancer illness and death, according to new studies on the subject.
According to the American Cancer Society ("ACS"), the following are recommendations for breast cancer screening for women at average risk:

Women should undergo regular screening mammography starting at age 45.
Women 45 to 54 years of age should be screened annually.
Women 55 years and older should transition to biennial screening or have the opportunity to continue screening annually.
Women should have the opportunity to begin annual screening between the ages of 40 and 44 years.
Women should continue screening mammography as long as their overall health is good and they have a life expectancy of 10 years or longer.
Clinical breast examination is not recommended for breast cancer screening among average-risk women at any age.
Breast Cancer Awareness Month helps increase attention and support for the awareness, early detection, and treatment as well as palliative care of this disease. Research is still being conducted regarding the causes of breast cancer, therefore, early detection of the disease remains the cornerstone of breast cancer control.
When breast cancer is detected early, and if adequate diagnosis and treatment are available, there is a good chance that breast cancer can be cured. If detected late, however, curative treatment is often no longer an option. In such cases, palliative care to relief the suffering of patients and their families is needed.
Comprehensive Breast Care Centers in Miami specialize in imaging diagnostics for breast cancer and beyond. They offer the latest technology for 3D mammograms, breast MRIs, breast biopsies, genetic testing, and more. Visit a CBCC location in North Miami Beach, Aventura, or South Dade to take advantage of this $99 3D mammogram offer. Call 800.371.0002 to request more information or schedule an appointment.