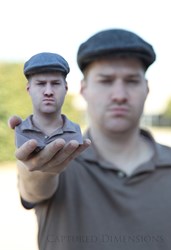 We are here to provide the massive amounts of 3D content that will be demanded.
Richardson, TX (PRWEB) August 22, 2013
Captured Dimensions, LLC, a photo-scanning pioneer, recently announced the opening of its new 3D scanning and production studio in Richardson, Texas. The state-of-the-art studio is equipped with cameras that surround the subject, snapping a collection of photos that are later used to create a 3D replica.
After nearly a year of research and development, the company's staff has worked out the processes that allow them to "capture" human subjects from all angles to build a 3D model. Captured Dimensions has built upon the work of Charles Hull of Systems Corp., who developed the first 3D printer in 1984. As evidenced by the Captured Dimensions, LLC's gallery, pets, children, and infants have been successfully 3D scanned and printed.
"It is just like having your picture taken, only with many cameras all at once," said Jordan Williams, the founder and president of Captured Dimensions, LLC. "After the pictures are knit together, the resulting photo-real, full-color, 3D model can be used in a variety of ways. We digitize reality."
For example, the company's most popular product is a 3D-printed full-color sandstone model that can be made up to 15 inches tall. Pictures can also be printed in other materials like monochrome plastic. The models created by the company can be busts or full body.
While Captured Dimensions can perform 3D scanning of static objects, Williams believes it is their unique ability to instantly scan a living subject that sets them apart. The company's technology has applications in fields such as medicine, art, architecture, and museum preservation. Captured Dimensions, LLC has worked alongside professionals from many different quarters, including sculptors who want their works preserved or duplicated and wedding planners who want unique photo-real cake toppers for their brides and grooms.
"3D printing and 3D media are game-changers," noted Williams. "We are here to provide the massive amounts of 3D content that will be demanded. We have to be prepared for all the uses that people will find for their 3D digital images in the future."
Individuals interested in learning more about the products and services that Captured Dimensions provides can visit captureddimensions.com for more information.
About Captured Dimensions:
Captured Dimensions, LLC is among the world's first 3D photo-scanning and production studios. The company provides a range of products and services focused on moving real ideas and subjects into the 3D digital realm and presenting digitized content in various forms. For more information, please visit http://captureddimensions.com .
Captured Dimensions, LLC
903 N Bowser Rd. #110
Richardson, Texas 75081
972-375-9399