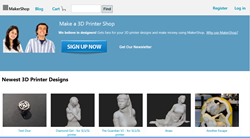 MakerShop.co Standard subscribers can monetize their work by accepting donations, ads or selling 3D printer designs individually.
Charlotte, NC (PRWEB) July 17, 2013
The online 3D printer marketplace MakerShop.co has a special offer to give 3D printer designers access to a rich platform for monetizing their work and gaining fans. The special offer is for the first 100 subscribers to sign up for the Standard subscription for 5 months for a total of $5.
The MakerShop.co Standard subscription gives 3D printer designers an online shop to share or sell designs with no listing fees and no sales commission. Subscribers also get a blog to connect with fans. Blogs are flexible and allow outbound links and embedding HTML so videos or images can be posted.
MakerShop.co subscribers can monetize work in alternative ways also like accepting donations by embedding a PayPal Donation button. Shops can use the platform for more alternative strategies like giving away 3D printer designs for free to attract fans and embedding Google AdSense ads to monetize the visitors.
Connecting with fans is important but 3D printer designers do not want to broadcast their email address on the web, because spammers can pick up the email address. The MakerShop.co platform's Standard subscription lets fans send messages to a shop owner through the web page, safeguarding the designer's email address.
The owner of the Fantasygraph 3D printer shop said about MakerShop.co, "For a long time, I tried to find a good website to run my own 'Web shop' for my 3d printing product. As soon as I found MakerShop, I knew that I had found my place. The interface was neat and professional, and the opening of my web shop was free and was made in ten minutes without a problem."
Michael created the MakerShop.co website earlier in 2013 because he could see a time when "things" go viral. This is the world of 3D printing, when a kid in one country can design something great on the weekend and by the next weekend have thousands or tens of thousands of downloads of the design with people printing it out around the world.
SpiveyWorks Corporation is a small business based in Charlotte, NC that designs apps to empower individuals in their daily lives on whatever device they happen to be using.