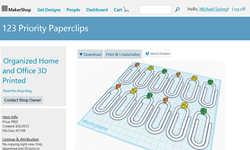 It's easier than ever to collect 3D printer design files from MakerShop.co using any device.
Charlotte, NC (PRWEB) August 30, 2013
SpiveyWorks 3D printer designs marketplace MakerShop is the best place to get and share 3D printer designs and has recently added an exciting new feature to let users save designs to DropBox. The new feature makes it easier than ever to collect designs using any device. Until now users have only been able to do what they could already do on other sites, download a file to their local computer. "MakerShop users now have the best way to organize the 3D printer designs they collect, saving them directly from online designer shops to cloud storage like DropBox." says MakerShop creator Michael Spivey.
Many sites require you to download designs directly to your computer, but by adding this new feature, MakerShop is letting users use tablets, phones and other devices which is more convenient. SpiveyWorks expects users will enjoy the freedom this brings. Many sites require users to download files to a PC or "collect" designs within their walled garden. Users live in a mobile-first world and in the cloud and the Save to DropBox feature lets fans collect designs in a natural way that already fits in with their lifestyle. Anything that makes the process easier will encourage users to collect more designs. Designers want designs to be available to the broadest set of users and today that means people working on multiple devices. Michael Spivey is available to help you setup your shop or answer any questions. He can be contacted by emailing ideas[a]makershop.co.
MakerShop is SpiveyWorks 3D printer designs marketplace that puts the designer at the center, unlike some websites maintained by hardware companies that primarily want designers to generate demand for their hardware with only free designs. While MakerShop has most content for free, it also lets designers monetize their work in different ways.
The site features a wide range of content from 3D printed photo frames to beautiful busts and horses, but also wants to get more designers signed up. Signing up is easy and you can have your own shop in minutes. The first 100 designers that sign up will get a special discount, $5 for 5 months of the paid subscription instead of the normal $5 per month.
SpiveyWorks Corporation is a small business based in Charlotte, NC that designs apps to empower individuals in their daily lives on whatever device they happen to be using.