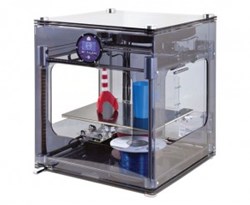 With the introduction of 3D Printing in Color, local rapid prototyping has been taken to a whole new level
- Marc Milisavljevich
Kalispell, MT (PRWEB) August 31, 2013
Spanning almost every industry imaginable, the era of 3D printing has given new opportunities to entrepreneurs and designers across the world. In Montana, more specifically, those looking to transform an idea into a physical prototype are now able to do so cost-effectively with ease and precision.
3D Printing Color provides a variety of 3D printing services. However, the focus remains on transforming the rapid prototyping market as they attempt to shrink the product to market time-span. The product development lifecycle historically reaches a slower pace during the prototyping phase. Now, 3D Printing Color uses their rapid prototyping services to get products to market in a timely manner, without compromising any design elements. Merging additive manufacturing with 3D printing technology, Montana residents have quickly learned the benefits of rapid prototyping to move ideas from concept to prototype quickly.
Accuracy, consistency, and quality have paved the way for ground-breaking products that hit the market quickly – all of this begins with a rapid prototype. From something as simple as a tennis shoe or iPhone case to something as complex as an artificial prosthetic, rapid prototyping allows for virtually any creation. 3D Printing Color takes a computer-aided design (CAD) and uses 3D printing technologies to transform any image into a 3D prototype.
As entrepreneurs, designers, engineers, inventors, and the like continue to discover the power of product development using rapid prototyping the industry is expected to skyrocket. Over the next decade, 3D printing will truly transform the manner in which companies get their products to market. From large jobs to small jobs, 3D Printing Color will play a significant role in pushing the industry forward.
About 3D Printing Color
3D Printing Color was born from a personal need to print prototypes. The company's founder and Montana resident, Marc Milisavljevich, identified a cost-effective, accurate, high-quality way to create 3D replicas and began his mission to build an effective rapid prototyping system. With the ability to print for any customers in the United States as well as internationally, 3D Printing Color has found success in offering custom product creation, rapid production, fast shipping, and competitive pricing. For more information, please visit http://www.3dprintingcolor.com/.