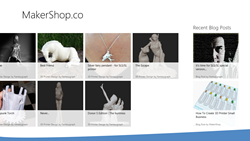 Get high-quality 3D printer designs with the MakerShop Windows 8 App.
Charlotte, NC (PRWEB) August 22, 2013
The new MakerShop Windows 8 app lets people browse magical high-quality 3D printable designs that can be downloaded to print out at home or using a service. This is the first Windows Store app dedicated to 3D printer designs. The free app is published by SpiveyWorks, the creators of the 3D printer online marketplace MakerShop.co.
The MakerShop app also features exclusive blog posts from designers and the official blog of MakerShop.co. Featured blog posts give actionable advice on how to start a 3D printer small business among other things. Windows 8.1 will offer native 3D printing support and MakerShop believes in getting the best designs out to everyone on the platform.
By offering a Windows 8 app, MakerShop is giving users another way to access the high-quality content designers using the service offer. Magical designs of beautiful artwork or useful household gadgets are home to MakerShop. Designers use the platform to receive donations or charge for each download of a design. Most of the designs are free and the designer only asks for a small donation.
Anyone can start a 3D printer shop on MakerShop and get their designs featured in the Windows 8 app and website front page. To start a shop, login to the website, create a shop, upload a design. Over 15,000 3D printer designs have already been downloaded through the website.
If you have any questions about starting a 3D printer business or using MakerShop, then please contact ideas(at)makershop(dot)co for more information. Ideas and actionable advice are free for all 3D printer designers. MakerShop is uniquely for designers and its mission is to start with the designer and the magical designs they create, instead of starting with the 3D printer hardware company's needs.
Download the MakerShop Windows 8 app and explore the 3D printer designs available to print.
SpiveyWorks Corporation is a small business based in Charlotte, NC that designs apps to empower individuals in their daily lives on whatever device they happen to be using.