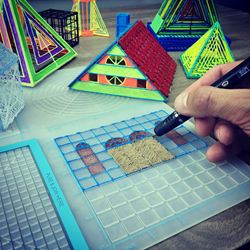 The 3Dmate design mat is a powerful tool for getting the most out of your 3D pen. It makes it easy to achieve clean and accurate lines to create impressive models and have fun instead of frustration.
New York, NY (PRWEB) July 26, 2017
As 3D pens continue to gain worldwide popularity, free form drawing is still a source of frustration for many creators. Engineer Kaz Bigus came up with a new design solution to improve the precision and accuracy of the 3D printing pen process. 3Dmate, a revolutionary design mat, allows for an enhanced design experience, enabling more stability and creative flexibility for the user.
Kaz, an engineer-turned-product designer, realized there was a common theme throughout 3D pen user reviews. Users found it hard to truly shape their creations with precision, or sometimes draw anything beyond rudimentary doodles. Although there are many amazing creations on social media sites, it is still a challenge for the average person to draw even a decent cube.
Users occasionally run into another problem when attempting to draw vertical lines with the 3D pen: falling structures and filament curling. Kaz decided to put his engineering and product design background to the test. After several trials, he came up with the 3Dmate BASE design mat, which is currently patent pending. The design will allow users to handle a 3D pen like a pro. Its simple shapes and grooved patterns allow for a whole new world of creative possibilities.
What is 3Dmate?
It is a grooved, transparent 18" x 12" mat with a combination of basic geometric figures of various compatible sizes.
The 3D pen user can simply draw within the grooves. The grooves keep the hot filament in place and prevent warping. Once the filament cools, the design can be popped out freely and will remain solid, allowing it to fuse with other pieces.
To further encourage creativity, 3Dmate will have stencils specifically designed for the mat and will be available for download here.
The "Fuse and Join" area is uniquely designed to improve precision and accuracy.
The 3D Pen – without the design mat – requires impeccable skill of the human hand. 3Dmate makes the creation process more enjoyable and rewarding by offering stabilization.
3Dmate is heat resistant up to 260° C (500° F). It is non-stick and works with all types of filament and 3D pens currently on the market.
Why use 3Dmate?
3D printing is revolutionary tool that has the capacity to change how designers create new products. It is currently being introduced into schools as a STEM educational tool.
Given the cost of 3D Printers, 3D pens are a more affordable way for students to understand 3D printing technology. The 3Dmate is the perfect complement to a 3D Pen and will close this knowledge gap.
It inspires creativity and assists in design. Students can produce prototypes, landmark structures, rockets, vehicles, doll houses, you name it. The mat is also ideal for younger children; It helps develop spatial awareness, shape recognition, fine motor skills, and also encourages a more hands-on approach to learning.
Features:
Improves critical thinking, spatial awareness, fine motor skills, and creativity.
Provides a tactile learning experience for students, as well as the blind or visually impaired.
Fosters imagination and provides opportunities to design and build structures.
Supports STEM by introducing children to sorting, grouping, counting, problem solving, design, and construction.
Offers the possibility to create hundreds of different structures, with unlimited creative potential.
Great for children, as it promotes brain development through problem solving, shape recognition, and patterning.
Comfortable and safe design, with a protective base for table surfaces.
When will 3Dmate be available for purchase?
R&D is completed and final prototypes are ready. 3Dmate has undergone a variety of trial materials and features, and is now ready for production. Careful considerations have also gone into the selection of the manufacturer, who has a strong track record and is currently used by many large U.S. companies.
A crowdfunding campaign was recently launched on Kickstarter, with plans to have the product on the market by October 2017. You can visit their Kickstarter project here.