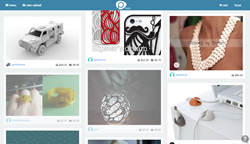 "We're excited to be partnering up with Pinshape. They've built a tremendous platform and really understand what both designers and clients need." - Andre Wegner, CEO of Authentise
(PRWEB) April 03, 2014
"Authentise is another great addition to the 3D printing options offered at pinshape.com", says pinshape co-founder Lucas Matheson. "When combined with our existing licensing options and professional print service, designers now have the ability to distribute their work how they want. This means they can spend less time worrying about their intellectual property, and more time designing amazing shapes for everyone to enjoy."
The technology developed by Authentise allows consumers to stream 3D printable files directly to their own 3D printers, allowing them to start printing faster and easier. This system also helps to ensure designers monetize their work each time a shape is printed. In addition, the streaming service acts to protect IP by preventing consumers from accessing the design files, making it difficult to share or modify the design.
"We're excited to be partnering up with Pinshape. They've built a tremendous platform and really understand what both designers and clients need. Seeing clients with gorgeous sites like Pinshape is validation of our vision: by providing simple security tools we push innovation into user experience and pricing, which is where it belongs," says Andre Wegner, CEO of Authentise.
This streaming service, which is available now, has been integrated into pinshape.com, where 3D designs can be browsed, purchased, streamed and printed, all directly from the web.
Pinshape was built with a focus on user experience, and makes exploring, sharing, downloading, selling, and ordering 3D prints through its professional service simple and fun. The familiar pinboard-style site is community curated and prioritizes models for each individual user based on their behaviour and social interaction combined with shape relevance, quality and popularity. Additionally, with an invite only designer community, Pinshape is building a network of top talent with a wide assortment of exceptional designs.