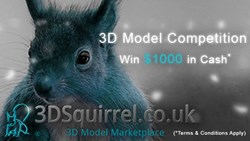 3D Squirrel gives 3D artists the highest royalty rates around and the slickest most elegant 3D model upload interface. They really care about their customer support. Sirren, 3D Artist
London, UK (PRWEB UK) 4 December 2013
3D Squirrel, an online 3D model marketplace for buying and selling 3D models, have announced the launch of their 'Best 3D Model for Sale' and 'Best 3D Model Seller' competition. They have also introduced their new 'Royalty for Loyalty' rates. These new rates give artists the chance to earn up to 95% royalties from all their model sales.
The success of their first year developing this website as a vibrant professional hub for artists and the positive feedback that they have had from their current members, has prompted 3D Squirrel to create three new levels of royalty rates. These provide financial rewards to match the amount of loyalty the seller gives to 3D Squirrel.
All artists who upload their models for sale in 3D Squirrel's 3D model marketplace between 1 December 2013 and 4 January 2014 will be eligible to participate in their latest 3D model competition and have the chance to win up to $1000 in cash prizes.
"We are providing artists with a fully integrated online marketplace where they can promote themselves, as professionals, as well as buy and sell models," says Jonathan Hagan, Managing Director of 3D Squirrel. "We provide our members with free gallery space, a video showcase page for their showreels and tutorials, and an active community forum where they can join in with friendly discussions about their work and regular 3D modelling challenges. With the introduction of our new 'Royalty for Loyalty' rates we now offer artists the chance to get the maximum financial benefit from the sale of their 3D models too."
3D Squirrel invites all artists who are considering selling their models in an online marketplace to participate in their latest 3D model competition and to take advantage of their new high royalty rates.
Please visit 3D Squirrel's website for more information: http://www.3dsquirrel.co.uk.
About 3D Squirrel:
3D Squirrel was founded in 2012 by award winning professional 3D Artist and Architect Jonathan Hagan. As a fully integrated community based online 3D model marketplace 3D Squirrel aims to provide 3D artists from across the world with an uncomplicated, fair and transparent service that both buyers and sellers can benefit from. During the first year online the website has drawn a loyal community of dedicated artists and in this short time it has already established itself as a professional and friendly hub with a large collection of quality models available for sale.