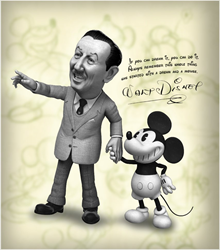 If I can't find a job, I'll make my own.
New York, NY (PRWEB) April 04, 2014
3D Training Institute (3DTi) Alumni, Daniel Madzel, has always loved creating recipes and making tasty treats for his family and friends. This passion fulfilled his creative side, but the long hours and low pay in the food industry sent him searching for a career where he could afford to support his family.
He spent the next ten years selling loans as a licensed mortgage consultant until he was completely burned out. About this time a friend asked if he would illustrate a children's book. He had always liked to draw so he took on the challenge.
"When it was over, I sat myself down and I told myself that I had to figure this out. I couldn't see myself sitting behind a desk just selling loans for the rest of my life. I needed something creative."
So Daniel did some research. "Before I threw tens of thousands of dollars into a school I needed to know how it was going to work for me." Daniel discovered 3D Training Institute, attended the free Introductory Class, and liked what he saw.
"3DTi has a really cool teaching approach. The instructors teach live online and they make learning fun and easy. 3DTi uses a simulated production environment, so I learned what companies and clients are looking for. It was like on the job training and far more affordable than any of the other programs."
Daniel took the 16-week program at 3DTi, graduated, received a diploma, and had a reel of work that he had accomplished during the program to show clients. He also had the confidence to go out and take on projects.
"But, when I graduated the economy was really bad. Still, I didn't let that stop me. I said, 'If I can't find a job, I'll make my own.'" Daniel took what he learned at 3DTi and turned himself into an entrepreneur.
He studied Augmented Reality to set himself apart from other artists and partnered with some of the top leaders in the field, such as Wikitude and WT Info Tech, and Mobiti. He learned how to set up his own business through the Small Business Association and created his own animation company, Gridway Digital. He created a motion graphics sequence along with the end credits for the movie, Kings of Summer 2013, which was first seen at the Sundance Film Festival. He's also working on an animated series called Kids in Faith which has been reviewed and approved by the Dove Foundation.
"I pounded the pavement and now I've got a team of 10 artists. I feel like there's no ceiling on what we can accomplish."
For Daniel, 3D Training Institute was the "secret sauce" that gave him the skills and confidence to successfully make the career change that would change his life.
"I'm now able to live a happy, creative, fulfilling life. I tried a lot of other things, but I just wasn't happy," Daniel says. "Working for something you want in life is never going to be easy. You've got to do your homework, get around good people, get fired up! I'm happy I tried. I have no regrets!"
As Daniel's company continues to grow, he has come back to 3DTi looking to hire graduates who will bring the 3DTi expertise with them!
Ben Katt, of 3DTi, said, "We are very proud of Daniel's success. We are here to provide Daniel and his company, Gridway Digital with talent and help him grow his business. Daniel is an inspiration for anyone looking for career change and anyone who has ever dreamed of becoming a successful entrepreneur."
For more information, visit: http://www.3DTraining.com.
About 3D Training Institute (3DTi)
3D Training Institute (3DTi) is the leading provider of short-term production-based training programs in Autodesk Software. Popular trade magazines have recognized 3DTi as "One of the top schools, where students can put their careers on the fast track." 3DTraining Institute was one of the first companies to offer projectbased training in a simulated live-online production environment. 3DTi is licensed by the New York State Education Department (BPSS) and an authorized Autodesk Training Center (ATC). For more information, visit http://www.3DTraining.com.