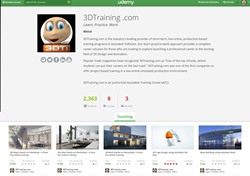 Through this exciting partnership with 3DTraining.com we are able to make high quality education in the booming field of 3D animation and design accessible to interested students all over the world.
New York, NY (PRWEB) October 23, 2014
3DTraining.com and Udemy are proud to announce they have recently partnered to offer 3D design & animation courses with the first live online instructor led workshops in the Udemy Platform! To celebrate the launch of this unique offering, Udemy and 3DTraining are giving students the opportunity to register for Autodesk's 3dsMax, Maya, Revit, and Inventor programs for only $19 for a limited time. This training, a $199 value, includes two hours of self-paced video instruction and a four hour live online class with an actual instructor.
Through the 3DTraining.com and Udemy partnership, students will be able to experience the best of online learning. Students will register for a course through the Udemy Platform, watch the specially prepared, interactive videos and complete a 3D project. Students will then sign up to attend a four hour live online, instructor led class where they will receive feedback on their project, get questions answered, and be taught how to produce high quality 3D work with industry insider tips and tricks. This will help anyone who is interested in finding out if they enjoy working with 3D software and if this is a viable career choice for them.
During this course, students will get a chance to try out the 3d software (Autodesk is providing a free 30 day trial of 3ds Max, Maya, Revit, and Inventor), get to experience live online learning, and find out more about the booming career opportunities within the 3D field. For anyone who has ever wondered where the jobs are in the 3D field and if they could learn the necessary skills to become a 3D professional, this is the perfect chance to explore these possibilities and talk with industry experts.
"Right now there is a huge demand for 3D professionals in movie studios, video game companies, medical illustrations, advertising, architecture, construction, real estate, legal re-enactments, product testing, and government simulations. There's also an infinite number of entrepreneurial possibilities through owning your own animation company and 3D printing." says Ben Katt of 3DTraining.com. "All of these areas are expected to increase exponentially in the coming years."
3DTraining.com has over 15 years of experience training people in Autodesk software. They have developed a proven training methodology that teaches 3D software in a simulated production environment. Students learn the software skills from watching interactive proprietary videos, practicing on projects, and meeting with their supervisors in a live online production session that simulates a real world working environment. Students are able to talk directly with the instructor and show their projects through special screen sharing technology.
Udemy is at the forefront of providing educational opportunities and courses to anyone with a computer and an internet connection. Udemy students are able to find free or reasonably priced courses online in a wide range of subjects. Bringing a diverse array of courses to anyone around the world is part of the exciting new world of learning. Udemy and 3DTraining.com are also committed to making 3D animation and design courses affordable and available to almost anyone in the world.
"Udemy is dedicated to connecting people with the skills they need to achieve goals and excel in their career path," says Frank Visciano, Director of Content at Udemy. "Through this exciting partnership with 3DTraining.com we are able to make high quality education in the booming field of 3D animation and design accessible to interested students all over the world."
If you or someone you know are interested in learning more about 3DTraining.com's 3D Animation and Design workshops, click here to sign up for the software of your choice, and use coupon code LEARN3D19 to redeem your $19 workshop.
About Udemy
Udemy is the leading marketplace for online learning, offering people everywhere the opportunity to advance their careers, change professions, develop their personal passions or simply learn something new. With an ever-growing offering of 20,000+ courses, students can transform their lives by learning any subject they choose—at their own pace, on their own time, on any device. For companies, Udemy offers instant access to a comprehensive course library and easy-to-use course-creation platform. Founded in 2010, privately owned Udemy is funded by Norwest Venture Partners, Insight Venture Partners, Lightbank, MHS Capital, Learn Capital, and 500 Startups, among others. Udemy is headquartered in San Francisco.
Web:http://www.udemy.com |Twitter:@udemy |Facebook:http://www.facebook.com/udemy
About 3DTraining.com
3DTraining.com is the leading provider of short-term production-based training programs in Autodesk Software. Popular trade magazines have recognized 3DTi as "One of the top schools, where students can put their careers on the fast track." 3DTraining.com was one of the first companies to offer simulated on-the-job training in a live online production environment and is an authorized Autodesk Training Center (ATC). For more information, visit http://www.3DTraining.com.