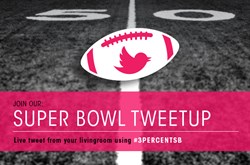 "We think brands can do better. But will they?" says Kat Gordon, founder of The 3% Conference
San Francisco, CA (PRWEB) January 28, 2014
The 3% Conference, a movement that is changing the conversation about how to market to women by building a business case for more women creative in advertising, is hosting a bicoastal Super Bowl Tweetup on Sunday, Feb. 2.
The Tweetup brings women creatives together on Super Bowl Sunday in Boston at Hill Holliday and in San Francisco at The Hive Advertising to watch the big game and live tweet their opinions of the ads using the hashtag #3percentSB.
The ad women will be live tweeting on whether each commercial appeals to women, who make up 45% of all NFL fans and influence more than 80% of all spending, and whether the spots are creative and effective.
"Women watch football and in 2013's Super Bowl we saw waitresses turned strippers, scantily clad women tackling each other in the dirt, and a supermodel kissing a computer programmer. That's not the way to market to women," says Kat Gordon, founder of The 3% Conference. "We think brands can do better. But will they?"
On Super Bowl Sunday, ad women from all the major east and west coast agencies, as well as top notch freelancers will be watching and tweeting. And they won't be alone. Across the country, folks will be live tweeting from their living rooms, voting on whether each ad scored a touchdown, fumbled the ball, or should be sacked. A few lucky ads may even receive an "extra point."
"But the in-person events at Hill and the Hive are just the start of what this Tweetup hopes to accomplish," says Rebecca Rivera, a creative director, co-pilot of The 3% Conference and organizer of the Boston Tweetup. "We're inviting viewers across the country – women and men – to chime in and share their thoughts and reactions by tweeting using the hashtag: #3percentSB."
The day after the Super Bowl, the 3% Conference will share a video montage of the events in Boston and San Francisco, to be produced by Newfangled Studios, plus still photos. A survey will also be conducted asking The 3% community: which ads were made with women in mind, which brands they remembered, and which ads they liked best. Survey data will be shared via an infographic and will be available to the media post-event.
For more information about The 3% Conference, please visit: 3percentconf.com. For media interviews with Kat Gordon or interview requests, please contact: Nancy Vaughn at: nancy[at]whitebookagency[dot]com or call: 813.994.9807.
About The 3% Conference
The 3% Conference, founded by Kat Gordon in 2012, started as a passion project to spotlight a huge business opportunity in advertising – the lack of female creative leadership and its impact on connecting with an overwhelmingly female marketplace. Since its launch, The 3% Conference has grown exponentially and today it is a fully fledged movement: encompassing a 400-person, 2-day conference in San Francisco and multi-city "road shows" throughout North America, along with a vibrant online community, agency consulting, Speed Mentoring, and a student scholarship fund. Learn more about The 3% Conference: 3percentconf.com.
About Hill Holliday
Hill Holliday is proud to be among the top creative marketing agencies in the country, with 950 employees across its network. We work on some of the nation's largest and most respected brands, and our success came by putting people and ideas first. We were founded in 1968 and today we bring unbeatable talent and expertise to every area of modern communications on behalf of industry leaders like Cadillac, Verizon Wireless, Bank of America, Dunkin' Donuts, (RED), John Hancock, TripAdvisor, Major League Baseball, TJX, Merrell, Capella University, Chili's, Novartis, Great Wolf Resorts and WHOLE WORLD Water. For more about our people, our work, and our culture, please visit: hhcc.com.
About The Hive Advertising
The Hive Advertising is an independent, full-service ad agency that solves communications problems for a wide range of brands across all media platforms. Founded in San Francisco in 2003, it's led by CEO/Creative Director DeeAnn Budney and Partner/Director of Account Services Anne Smith Rainey, seasoned professionals with experience at some of the ad industry's biggest and most accomplished agencies. The Hive prides itself as much on its strategic insights as on its creative executions. Recent clients include Whole Foods Market, UCSF Medical Center, Torani, Barbara's Bakery, Beringer Wines, Treasury Wine Estates and Find&Save. For more information about The Hive Advertising, please visit: thehiveadvertising.com.
About Newfangled Studios
Newfangled Studios is a woman-owned, video-centric creative team based in Boston that works all over the world. Whether you're an agency looking to execute a concept or need a script-to-screen solution, Newfangled has the production expertise and storytelling talent to bring your project to life. Learn more at: newfangledstudios.com.
MEDIA CONTACTS:
The 3% Conference
Nancy Vaughn, White Book Agency
Phone: (813) 994-9807
E-mail: nancy(at)whitebookagency(dot)com
Shannon Atlas, The Hive Advertising
Phone: 415.203.4363
E-mail: shannon_atlas(at)mac(dot)com
Tracy Brady, Hill Holliday
Phone: Tracy(dot)brady(at)hhcc(dot)com
E-mail: 617-366-4099
###