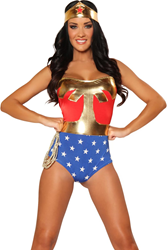 Raleigh, NC (PRWEB) September 23, 2015
In August, 3wishes gave its audience a head start on the Halloween season by providing a fun top 10 list of costume ideas for the big night. The holiday will be here before shoppers know it and unfortunately, those that wait until the last minute don't usually find what their looking for.
The list of costume ideas includes costumes that have ranked highest in popularity for each year over a ten year period of time. These costumes never lose their appeal as their sexy designs are timeless…
The top 10 list of costumes featured in 3wishes.com's August blog entry, include:
#1 - The American Hero Costume: This superhero ensemble was the most popular choice for 2014. Featuring a lasso, a lasso loop, star embroidered headband and optional American hero boots to set the look off, this is one costume that's guaranteed to turn heads.
#2 - Arabian Princess: The top choice for 2013. This costume is fun and it's sexy. The materials are silky and the color is stunning. Make that special someone's wishes come true on All Hallow's Eve night in the Arabian Princess costume.
#3 - Frosty the Snow Vixen: After placing the featured black floppy hat on top of her head, Frosty the Snow Vixen comes to life on Halloween night. Frosty the Snow Vixen was the top choice in 2012.
#4 - School Girl Costume: This timeless classic never gets boring for the true tease at heart. This two-piece outfit was the most popular Halloween costume at 3wishes.com in 2011. The naughty school girl look isn't complete without a garter belt and thigh high stockings…
#5 - The French Maid: Did someone call for room service? The French maid costume was the leading contender for All Hallow's Eve of 2010. This mini dress comes complete with feather duster and all.
#6 - Adult School Girl Costume : Featuring a traditional plaid mini with a cute spandex top, the Adult School Girl Costume was America's favorite choice at 3wishes for Halloween of 2009. This look can be topped off with a sexy pair of stockings – knee high or thigh high.
#7 - The Sexy Mouse Outfit : This adorably costume took the lead Halloween night in 2008. The dress features a classic ruffly design and comes with a pair of bowed mouse ears. The look can be topped off by painting a little black dot on your nose and some whiskers across your cheeks. Prepare for a game of cat and mouse…
#8 - Anchors Away Sailor Costume : Features a sailor tie and sailor bowed hat with a dress that has a classically sexy look. The Anchors Away Sailor Costume was the most popular choice in 2007.
#9 - Strawberry Girl : The sweet strawberry girl costume was the leading choice in 2006 and it's no wonder. This is one adorably sexy costume featuring accessories such as a cute ruffly bonnet, a naughty/sweet ruffly dress, and thigh high stockings.
#10 - Indiana Jane : This hot costume features all types of fun-filled accessories and was the leading choice in 2005. With accessories such as a fedora, a toy knife, and a rope, Indiana Jane is bound to have some fun on Halloween night…
#11 - The Teacher's Pet : You probably knew a teacher's pet or two back in the day, only this teacher's pet is hot. The Teacher's Pet was the top choice for Halloween of 2004 and features the classic school girl look with the plaid mini, thigh high stockings and all. The only thing missing is the Mary Janes…
Visit 3wishes.com for the full blog entry and for more hot and Sexy Halloween Costume ideas!