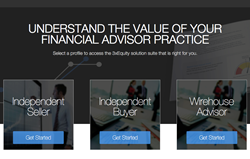 3xEquity launches a new subscription service for growing financial advisor practices.
Kirkland, Washington (PRWEB) November 11, 2015
3xEquity, the premiere online resource for financial advisors' growth and transition opportunities, introduces a new subscription service on its website 3xequity.com. The subscription service offers a suite of solutions that help advisors plan the future of their practice by:

Determining the financial value of their practice
Projecting the value of their practice in 3 and 5 years
Analyzing net flows
Comparing their practice's benchmarks to the top practices in the industry
Matching qualified buyers and sellers of practices
Providing access to industry partnerships to finance practice purchases
Subscribing provides full access to the Practice Valuation Optimizer and the Deal Terms Tool, which are typically of special interest to independent advisors. The Practice Valuation Optimizer provides instant current and projected valuations for a practice based on nine customizable variables, including the number of active clients, asset attrition, expected rate of return on client assets and the client age distribution. Valuations are based on a proprietary process that incorporates multiple methodologies from complex algorithms, to discounting cash flow. The Deal Terms Tool provides an instant calculation of the terms of an acquisition based on customizable variables such as the length of the note carried, interest rate and earn-out percentage.
In addition, subscribers gain full access to the Transition Comparison Tool, the first online, instant tool to compare deals that are currently offered by the top five wirehouse firms using an advisor's actual numbers and not simply percentages. Advisors can customize variables such as revenue, assets under management and the expected book value that will move with them to a competitive firm.
For more in-depth reporting, all subscribers can run 12 reports each year. Current reports include the Comprehensive Report that not only provides a practice valuation but also compares a practice to the national average and the top 25% of practices in the country on nine industry benchmarking metrics using data compiled by Moss Adams. By running multiple reports throughout the year, advisors can track trends in their practice. 3xEquity also offers a Wirehouse Transition Report that not only compares transitioning to another wirehouse, but also shows the projections for becoming an independent advisor. Subscribers receive 12 report "credits" they can use to run any report at any time during the yearly subscription. Any advisor may run any report for a one-time fee without subscribing to the service. All reports are emailed to advisors within one business day and stored on 3xequity.com for ease of access from anywhere and tracking.
All subscribers also receive access to the 3xEquity marketplace, partner solutions, and blog. The marketplace matches sellers with qualified buyers, and partner solutions matches buyers with banks that can provide financing. The blog offers advice on practice management, succession planning, transitions and more.
For subscribers who transition from wirehouse to wirehouse, wirehouse to independent, or independent to wirehouse, all the tools and reports continue to be available.
3xEquity encourages advisors to preview its suite of solutions for free by signing up to 3xequity.com with their name and email. The free preview provides limited access to all areas of the website.
ABOUT 3XEQUITY
3xEquity is the premiere online resource for growth and transition opportunities in the financial services industry. Through its sleek, easy-to-use website, 3xEquity offers real-time data analysis, which enables financial advisors to make crucial business decisions. Whether advisors are looking to expand, sell their business, establish partnerships, or evaluate other broker dealers. 3xEquity principles leverage their expertise (decades of experience) in financial investments and valuation platforms to enable the firm to consistently forge value-added relationships in valuation, management, and financing. For more information, please call toll-free 1-855-491-2910, email support@3xequity.com or visit 3xEquity.com.