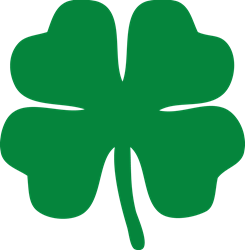 "We got such a positive response last year that the team decided to repeat the 4-leaf clover giveaway. Its always so nice to receive messages from happy clients who receive a little extra in their packages."
Fort Lauderdale, FL (PRWEB) February 28, 2014
It's that time of the year, pull your green outfit out of the closet and get ready to party like a Leprechaun. MacDecals.com, the online store for awesome decals, brings back its March, 4-leaf clover laptop sticker giveaway.
"We got such a positive response last year that the team decided to repeat the 4-leaf clover giveaway," says Pamela Loconto, founder of MacDecals.com. "Its always so nice to receive messages from happy clients who receive a little extra in their packages".
Just like last year, the lucky 4-leaf clover giveaway starts with all orders received on March 1st 2014. The giveaway will last all month long. When you go to MacDecals.com and purchase a decal or skin, you will receive a free green 4-leaf clover with your order.
Macdecals.com wants to wish everyone a safe and fun St. Patrick's Day. Remember Beer before liquor, never been sicker. Liquor before beer, you're in the clear. Don't drink and Drive.
About MacDecals.com
Founded in December 2011, MacDecals.com is the online store for custom decals, stickers and skins. MacDecals.com specializes in designing and printing the highest quality vinyl decals and sticker graphics for electronic devices: MacBook, iPhone, iMac, iPad, PC laptops, Car Windows and more. A proud, Made in the USA Company, MacDecals.com products are shipped across the globe. MacDecals.com offers more than 200 original decals and gives customers the ability to create their own. For more information on the product or to go order online, visit http://www.macdecals.com.