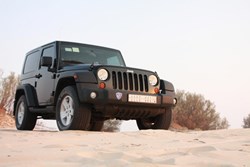 We've sold most incarnations of Jeep motors over the past 5 years online
Oklahoma City, Oklahoma (PRWEB) August 05, 2013
Jeep sport utility vehicles continue to dominate global sales based on the satisfaction of each buyer. Part of the recognition inside these vehicles comes from the V6 motors that are used. The Used Engines Co. online sells replacement Jeep motors and is now promoting its 4.0 liter Jeep engine sale online at http://www.usedengines.co.
"We've sold most incarnations of Jeep motors over the past 5 years online," an engine support specialist from the Used Engines Co. said.
The 4.0 series of motors produced for Jeeps stretches back to the ownership of the American Motor Corporation. This company handled all of the development before selling the company to Chrysler in 1988.
The consistent engineering of the inline 6 series motor has been expanded upon by Chrysler in the past 2 decades.
"The V6 build started it all for Jeep and continues to be produced with different technologies," the support specialist added. The current sale pricing that can be viewed for the 4.0 liter motors online is accessed through the quote system in place.
The UsedEngines.co company installed a quotation system to deliver all pricing to consumers this year. The system is now currently used for all online requests and remains available for use after hours of business have ended.
About UsedEngines.co
The UsedEngines.co company created its resources for used engine buyers online in 2009. This company currently supplies the majority of buyers in the trade industry as well as the general public. This company has built its resource to include discounted prices for some of the most requested types of motors. The UsedEngines.co company specialists are all trained experts in the automotive world who dedicate time each day to research pricing, lookup engine codes and help consumers with purchases. This company staffs its toll-free support line with knowledgeable engine specialists.