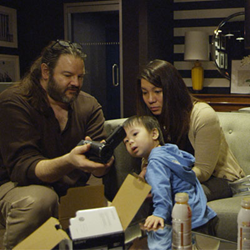 With 6 million pregnancies in the U.S. annually – 2.5 million of them first-time pregnancies – expectant moms agree 40 Weeks is the film they wish they had right now.
New York, New York (PRWEB) April 02, 2014
Director Chris Henze and his wife were pregnant with their first child and looking for a film to help them understand and anticipate what was to come in the next forty weeks. But they couldn't find anything that addressed the entire process of pregnancy in one place—both surprising and disappointing, as well as a huge window of opportunity.
Chris recalls his 'eureka' moment. "I was riding my bike, meditating on storytelling and the journey of pregnancy – such a profound experience, I felt there should be a movie about it. I just couldn't believe there was nothing out there and decided to tell the story myself."
Upon discovering this void, the journey of making the movie began. The documentary follows women of varying ages, ethnicities, marital situations, and economic backgrounds as they move from "I'm pregnant!!" to such events as hormonal changes, the first heartbeat, sonograms, miscarriage risks, going public, lung development, and birth.
With 6 million pregnancies in the U.S. annually – 2.5 million of them first-time pregnancies – expectant moms agree this is the film they wish they had right now. During and leading up to pregnancy, women are searching for information, community and clarity. They are voracious consumers of anything they can get their hands on. But it can be frustrating. An amazon.com search for books on pregnancy yields 30,000 results and Google registers millions of searches for "pregnancy documentary" and related keywords.
Very confusing...until now.
Henze assembled a group of talented and respected professionals to film, score, edit and tell the story in a uniquely personal manner. Chris and the team have been traveling the country, charting the progress of the pregnant women in the documentary. They are welcomed into the homes and lives of these families, interviewing the moms-to-be on a week by week basis—listening to the good and bad, the joys and tragedies, like trusted friends.
Kurt Engfehr (Executive Producer "Fahrenheit 9/11," "Fat, Sick, and Nearly Dead"), Lisa Singer (Casting Director "The Bachelorette," "Queer Eye"), and April Merl (Editor, "2012: A Time for Change," "The Yes Men Fix the World") join Chris in telling this story. To ensure that all health care information in the movie is accurate and current, 40 Weeks' key partners to date include the Association of Women's Health, Obstetric and Neonatal Nurses (AWHONN), the world's largest nursing authority dedicated to the health of women and babies, HealthyWomen.org, the nation's leading independent health information source for women, and the March of Dimes, the most respected non-profit organization dedicated to helping moms have full-term pregnancies and healthy babies.
Starting with 40 Weeks, the movie, Henze and his wife, Co-Producer Dominique Debroux, are creating a world of shared experiences, concerns and visual information for expectant moms and their families. A multi-platform strategy, starting with a series of web videos on a multitude of pregnancy topics, will be a comforting resource to access the pregnancy journey. Beginning its rollout this month, the web series will give a sneak peek into the film itself. Culled from documentary footage, it provides ancillary information for the women and their loved ones, and can be accessed at http://www.FortyWeeksMovie.com .