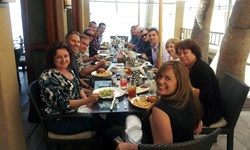 Small business retirement plans holder of Solo 401k get essential tips for huge ROI investments using their retirement funds.
Laguna Beach, CA (PRWEB) October 26, 2013
A recently concluded fundraisers lunch made a successful milestone for several investors and members of the InvestClub for Women. The InvestClub for Women is one of the top participants of the event organized by The Norris Group. The top organization geared at helping women and men learn the basics of today's investment industry held the lunch with a cause at Splashes @ Surf and Sand Resort. Countless participants and key players in the finance and investment arena took part in the event last Friday, October 4, 2013. There are various agenda in the said event including the focus on 401k for self-employed. Participants who made it to the lunch at 1555 South Coast Highway Laguna Beach, CA 92651 followed a full packed program and event flow.
Sense Financial Services, the country's most reputable and top quality administrator and provider of remarkable retirement plans such as Solo 401k also graced the event. No less than the President and founder of Sense Financial, Dmitriy Fomichenko took part in the fundraising lunch. He is one of the most important icons in the finance and investment industry that shed light on how retirement plans such as Solo 401 k could help retirees and investors boost their savings and money through using their retirement plan funds to invest in real estate and other industries with huge return on investment. The Individual 401k plan is one of the most popular retirement plans offering Checkbook Control features. Many well-known figures in the investment and finance industry were in attendance.
Other personalities in the industry who participated include executives of The Norris Group such as Bruce Norris, Diana Barlet and Aaron Norris. Sarah Buonora and Angel Bronsgeest of the Investors Workshop and the president and CEO of Creative Investors Association of San Diego, Bill Tan are also present in the event. The co-founders of InvestClub for Women, Bobi Alexander and Iris Veneracion are present as well as Ted Mayes, Focus Investment Group's Chief Investment Officer. Lastly, Anthony Titolo President of Frontline Investments, Tim Gordon, Deborah Razo and Phillip Silver, were among top fundraisers.
About Sense Financial Services:
Sense Financial Services LLC is California's leading provider of retirement accounts with "Checkbook Control": the Solo 401k and the Checkbook IRA. Over the years, Sense Financial have assisted hundreds of clients obtain checkbook control over their retirement accounts while providing them with the ability to invest in virtually any investment class, including real estate, private lending, mortgage notes and much more without the need for custodian approval.