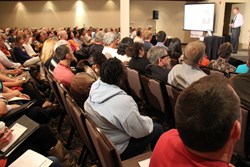 Sense Financial will sponsor Wealth Building Weekend for California investors and retirement plan holders of 401k for small business.
Costa Mesa, CA (PRWEB) October 25, 2013
On the 26th and 27th of October 2013, Sense Financial, the leading provider and administrator of 401k for small business retirement plan is organizing a two-day boot camp called Wealth Building Weekend. Organizers of the said event announced the activity and full packed event will be held at Costa Mesa Country Club 1701 Golf Course Drive, Costa Mesa CA 92626 from 8:00 AM to 4:00 PM on both days. Tickets are now available online with tickets for single participants or couples who will be attending together the seminar.
The main goal of this enriching and empowering real estate program is to give more comprehensive information to participants about salient products such as Solo 401k, Roth 401k and 401k for self-employed. The organizers and panelists of the one-day event has various discussions and talks on how to create true wealth through real estate investment. Participants are guaranteed informative and career-changing information according to event organizers. Topics and agenda included in the two-day event include goal setting which is discovering the most valuable and effective tool in real estate investment.
There will also be comprehensive discussion and inputs about the strategies for real estate investment particularly Buy and Hold. Other salient topics to be further highlighted include 401k for small business, Roth 401k rules and the fundamentals of property management. Attendees will also have first-hand information about setting investment criteria, having a full understanding of paperwork and contracts in real estate and in maximizing profits for Solo 401 k and IRA retirement plans. Based on updates regarding the event, there will also be intensified inputs on financing in today's real estate market, analyzing investments in real estate and the A to Z of Property Insurance. Another valuable agendum which all investors and retirement plan holders must know about is the tax strategies for investors in real estate.
Sense Financial guarantees participants and delegates of the 50-people seminar that they could receive not just information but tools and materials for their quest to have sustainable retirement through 401k for small business. According to organizers, the weekend boot camp will exclude upsold of mentoring packages but only useful resources for future real estate investment.
About Sense Financial Services:
Sense Financial Services LLC is California's leading provider of retirement accounts with "Checkbook Control": the Solo 401k and the Checkbook IRA. Over the years, Sense Financial have assisted hundreds of clients obtain checkbook control over their retirement accounts while providing them with the ability to invest in virtually any investment class, including real estate, private lending, mortgage notes and much more without the need for custodian approval.