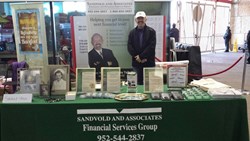 St Louis Park, MN (PRWEB) October 01, 2013
Sandvold and Associates, an insurance and financial services group located in St. Louis Park Minnesota, participated in the Alzheimer's Association Walk to End Alzheimer's at Target Field Sept. 21.
The annual walk raises awareness and funds for Alzheimer's care, support, and research. Alzheimer's is the sixth-leading cause of death in the nation.
Sandvold and Associates sponsors and supports the Alzheimer's Association. The Sandvolds became involved with the Alzheimer's Association because of personal experiences with the disease. It has affected multiple generations of Lynda Sandvold's family, the most recent being her mother Louise Stevenson, who suffered with it for around 20 years before passing away from complications on July 1, 2006.
It has been the Sandvold's mission to help the Alzheimer's Association potentially stamp out the disease by promoting awareness of the 10 early warning signs of it and donating to the charity.
Sandvold and Associates is a multi-focused financial services group. They believe that individuals should know they are receiving the most for their personal investments and insurance needs. They also strong feel the individual plays the key role in the development of the individual plan. Therefore, their objective is to provide sound analysis in order to help meet the needs and wants of the individual.
For more information, visit their website, or give them a call toll free at 1-866-856-5857.
About the company:
Sandvold and Associates provides insurance and financial services and follows the basic premise of an objective-based, strategically-outlined, individual portfolio. At Sandvold and Associates, they have made it their mission to provide an honest, dependable, and knowledgeable team of associates for clients and the public. They work diligently to help clients get to the next level in regards to their financial future, whether individual or business continuation. Services include retirement, investments, insurances, employer services, and estate conservation. Visit their website for more information at http://www.sandvoldandassociatestc.com.
Registered Representative of and securities offered through Questar Capital Corporation (QCC), Member FINRA/SIPC. Advisory Services offered through Questar Asset Management (QAM) a registered investment advisor. Sandvold and Associates is independent of QCC and QAM.