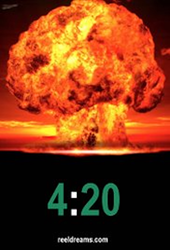 Not just another pot movie.
Denver, Colorado (PRWEB) January 04, 2017
4:20 marks the next feature in a line of recent Hollywood productions filmed in Colorado. The film takes a look at the effects of marijuana legalization through the clumsy journalist of an ultra-conservative news outlet. She and her news team embark on a journey to Colorado to present their perspective on marijuana legalization. Eventually, they inhale.
Director, Topher Straus, is a Denver native. "It is my goal to further foster a creative film community in Colorado. I can't imagine a city more conducive for creatives." Reel Dreams has a slate of three films, all being improvisational comedies, scheduled for release between 2017 and 2021 within the budgets of 7-15 million U.S. dollars each. In addition to narrative filmmaking, Reel Dreams is wrapping up their second feature documentary project entitled "Happy Is Life."
4:20 will be a relevant, humorous glimpse into the fast growing marijuana industry.
Production on 4:20 will begin March 2017.