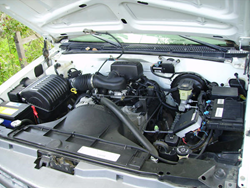 The Atlas motor family is now part of our inventory available nationally for Oldsmobile, Chevy, Isuzu and Saab vehicles
Atlanta, GA (PRWEB) July 16, 2015
The GMT360 platform motors that were built for the large SUVs by General Motors between 2000 and 2009 can now be purchased online through the Car Parts Locator company. A featured price for used Trailblazer 4.2L used engines is now available to consumers or auto mechanics seeking a replacement build. More details about this new inventory can be obtained at http://www.carpartslocator.com/trailblazer-4-2-used-engine.
The 4.2 Vortec performance engines that are now made available at a better price point are I6 editions. Supply agreements with leading distributors in the U.S have made it possible to offer the Trailblazer V6 motors to the general public. People who take interest in buying the blocks now available will have access to buy the LL8 RPO version.
"The Atlas motor family is now part of our inventory available nationally for Oldsmobile, Chevy, Isuzu and Saab vehicles," said one CarPartsLocator.com rep.
One incentive that is now offered to people who use the CPL company website to buy the used 4.2L 6-cylinder Trailblazer engines is a revised OEM parts warranty plan. Since different suppliers are being used to provide faster fulfillment services, new warranties are applied to all V6, I4 and V8 motor block orders.
"The Vortec 4200 and other units are now being covered with a better term of warranty coverage for all orders processed this year," the rep included.
The Car Parts Locator company is expected to include more I6 motor blocks in its shippable inventory posted on its website. Consumers will soon have the option to buy carbureted and MPFI blocks from various automakers later this year.
About CarPartsLocator.com
The CarPartsLocator.com company is a national provider of used OEM vehicle parts and accessories to consumers. The company has built its warehouse inventory finder that is now active for use. The CarPartsLocator.com company supplies phone and web support services to consumers who buy its foreign or domestic inventory.