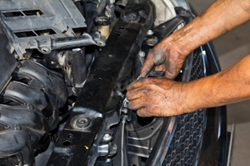 While Ford discontinued its active production on the Essex family of blocks, there is still quite a demand in the auto parts aftermarket
St. Louis, MO (PRWEB) May 22, 2015
Motor upgrades by Ford Motor Company in the year 1997 included a revised F-Series engine known as the late model Essex style V6. The Powertrain Guys company has scheduled an ongoing discount for 4.2L used Ford engines that are ordered from its website this year at http://powertrainguys.com/used-4-2-liter-ford-engine-for-sale.
Consumers or automotive mechanics who take interest in buying the V6 builds at the PTG website to take advantage of the new discount offer will receive the 256 cubic inch version of the 4.2-liter. These builds are now listed as in stock and will support the F150, E250 and Freestar vans that used the V6 block.
"While Ford discontinued its active production on the Essex family of blocks, there is still quite a demand in the auto parts aftermarket," said one PowertrainGuys.com source.
One known problem that can plague a buyer of a used component for a vehicle is the lack of support for older transmissions in larger trucks and SUVs. The Powertrain Guys company is now solving compatibility problems with its 4.2L inventory by testing the blocks with the 4R70W and E4OD gearboxes to eliminate issues during installation.
"Any person who places an order through our website or phone center receives inventory that will work with the OEM gearboxes in Ford vehicles," said the source.
The Powertrain Guys company is scheduled to add additional Ford Motor Company inventory that is in used condition for the remainder of this year. Both motors and gearboxes for classic and current vehicles will be available to purchase at a lower than regular retail price on the web or by phone.
About PowertrainGuys.com
The PowertrainGuys.com company leads the secondary market as a seller of vehicle components on the web. The company has expanded what it offers this year to include most powertrain components for SUVs, cars and trucks. The PowertrainGuys.com company has built its website to be user-friendly and now supports instant price quotations through mobile devices on its portal.