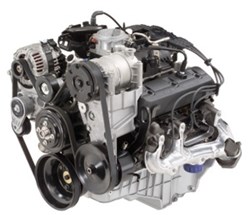 Vortec engines hold a resale value and can be harder to locate using offline vendors for a discounted price.
Rockford, IL (PRWEB) September 06, 2013
The Vortec engine platform produced by General Motors remains a popular choice for used vehicle owners replacing Chevrolet and GMC engines. The Got Engines company is now announcing a 4.3 Chevy engines sale for buyers online at http://www.gotengines.com/chevrolet/chevy-s-10-engines.html.
This sale applies to the 4300 Vortec series and is scheduled to stay in place for the duration of the year.
The V6 engine is one engine type in the GM family of motors that has been used in pickup trucks, vans and sport utility vehicles. The introduction of the 4.3 series in the mid-1980s helped to expand the technologies used across all GM brands.
The price drop for this series by the GotEngines.com company online is one example of recent changes to the price structures used for buyers.
"Vortec engines hold a resale value and can be harder to locate using offline vendors for a discounted price," a sales rep for the Got Engines company confirmed.
The Chevrolet S10, GMC Safari, Blazer and other top models produced over the past 25 years are vehicle types that use the 4.3 engine successfully.
The range of customers using the Got Engines website expected to benefit from this new price decrease includes more than vehicle owners. Auto body shops, mechanics and servicers of warranties can purchase this discounted inventory online.
"The programmed search tools that are featured online for our inventory help with price discovery and warranty details for buyers performing engine research online," the sales rep added.
The 4.3 V6 Vortec engines now discounted for sale had joined other engines used in GM vehicles for price discounts this year. Recent price markdowns for the 5.3 and 5.7 series engines were announced to the public.
These sales are ongoing on the Got Engines website to assist all buyers of motors with an opportunity to reduce the cost of engine replacements.
About GotEngines.com
The GotEngines.com company sells a complete line of replacement engines for Ford, Chevy, Jeep, Dodge and other automaker vehicle brands online. This company uses a team of buyers who work daily to access inventory that is distributed by top auto companies in North America. The GotEngines.com company specialists provide instant support to engine buyers online and through a telephone ordering center. This company closely monitors all of its pricing programs to ensure that all consumers have direct access to sale pricing and additional incentives that are launched by this company.