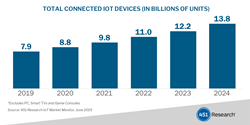 "A key lesson from IoT deployments is how dissimilar they are to traditional IT workloads, in scale and in topology. The 451 Research IoT Market Monitor captures this complexity by breaking down the vast market into actionable use cases, industries, and geographies."
NEW YORK (PRWEB) August 07, 2019
Newly released Internet of Things (IoT) market research from 451 Research, leading technology analyst and advisory firm, indicates that the number of IoT connected devices (excluding PCs, Smart TVs and Game Consoles) will be approximately eight billion in 2019, and reaching nearly 14 billion in 2024 – a compound annual growth rate (CAGR) of 12%.
Consumer IoT accounts for the majority of total IoT connected devices, driven by the abundance of smartphones and tablets. However, this five-year analysis (above) of enterprise IoT endpoints shows there is substantial growth coming for IoT connected devices in enterprises. This will not only mean a greater share of enterprise IoT opportunity for companies to capitalize on, but this growth also has implications for the datacenter infrastructure and services, storage, server, security, networking, and other markets across the IT landscape as more data is processed at these endpoints.
"IoT is redefining the way companies develop new products and services, and ultimately how they deliver value to their customers," said Christian Renaud, Research Vice President of IoT Research. "A key lesson from IoT deployments is how dissimilar they are to traditional IT workloads, in scale and in topology. The 451 Research IoT Market Monitor captures this complexity by breaking down the vast market into actionable use cases, industries, and geographies."
This breakdown into granular areas is important as, according to Greg Zwakman, Vice President of Market and Competitive Intelligence, "companies understand that IoT is a massive opportunity but are often uncertain on how or where to effectively compete."
Having a strong understanding of a company's specific IoT opportunity can mean the difference between success and failure in the market. With the IoT market opportunity expected to nearly quadruple in the next five years – growing from $172 billion in 2019 to $658 billion by 2024, according to 451 Research's new IoT Market Monitor – there is plenty to gain, but only if companies can identify their specific opportunity area in such a vast market. The IoT Market Monitor offers the ability to drill down by region, vertical, or endpoints, making it a powerful tool for vendors and service providers to identify their key opportunities in the IoT market.
"By leveraging other 451 Research deliverables, such as the Voice of the Enterprise end-user surveys, we can expand our analysis around how much data is analyzed, the data landing locations and, therefore, the impact on edge, multi-access edge, cloud, enterprise datacenters, etc.," added Leika Kawasaki, Research Manager.
To request a media briefing regarding this Market Monitor, email media.inquiry@the451group.com.
Contact your sales representative or email sales@the451group.com to find out how you can access the data or learn more about the research.
About the IoT Market Monitor
451 Research's IoT Market Monitor is based on a bottom-up analysis that deconstructs the Internet of Things into specific, actionable components. The analysis covers more than 1,000 endpoint types across 12 verticals and more than 300 use cases at a country and regional level with forecasts of revenue, connected devices and data generation. 451 Research's IoT Market Monitor report leverages the 451 Global IoT Market Model (GIMM) that deconstructs the Internet of Things into specific, actionable components. The IoT Market Monitor report provides an overview of the IoT market with a five-year forecast covering 3 key metrics: the number of IoT endpoints in units; IoT market spending estimates covering hardware, software and services; and IoT data generation in petabytes.
About 451 Research
451 Research is a leading information technology research and advisory company focusing on technology innovation and market disruption. More than 100 analysts and consultants provide essential insight to more than 1,000 client organizations globally through a combination of syndicated research and data, advisory and go-to-market services, and live events. Founded in 2000 and headquartered in New York, 451 Research is a division of the 451 Group. Learn more and connect with 451 Research on Twitter and LinkedIn.