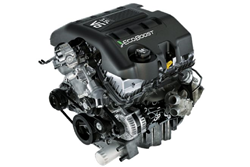 The large size sport utility vehicle market is now part of our long range sales goals, and we are supporting more OEM motor blocks in used condition
Los Angeles, CA (PRWEB) June 16, 2015
The Range Rover and Land Rover SUV vehicles that were sold in the U.S. between 1987 and the current model year can now be fitted with used replacement motors courtesy of the Got Engines company. A brand new warehouse inventory is providing access to 4.6L Land Rover engines that are now discounted for sale at http://www.gotengines.com/blog/land-rover/land-rover-4-6l-engine.
The 8-cylinder versions that are currently in stock are mixed between two types of manufactured editions. The units that were built by Land Rover in the UK and by Ford in the U.S. are included in the sellable inventory at the GotEngines.com website. All discounts that are provided are displayed in the sale prices that are listed.
"The large size sport utility vehicle market is now part of our long range sales goals, and we are supporting more OEM motor blocks in used condition," said one Got Engines company source.
The 4.6L V8 engines for sale that now include the promoted sale price structures are designed to help a person replace a block at a lower price point. Since the standard term of warranty is usually less than 180 days, the Got Engines company is providing an extension of its coverage plan for a 24-month duration.
"People who purchase from our website or by telephone will receive the new sale pricing as well as the improved parts warranties," said the source.
The Got Engines website has been changed to make navigation easier for people who use mobile phones or tablet PCs in North America. A special mobile website has been designed and is now active when a person visits the company portal using any Android, Windows or Apple device browser.
About GotEngines.com
The GotEngines.com company is now a leading portal to find discounted vehicle motors from all North American automakers on the Internet. The company has improved its domestic relations with suppliers since 2013. The GotEngines.com company showcases new products to buyers who prefer to purchase second hand inventory at close to dealer wholesale prices.