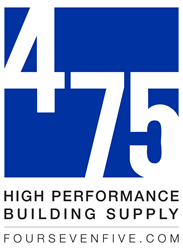 It's a big help to be able to source the majority of our air barrier supplies from a single manufacturer.
NY (PRWEB) July 11, 2014
475 High Performance Building Supply (475), a leader in airtight and foam-free building enclosures for US construction, announced a completely redesigned website in their most recent newsletter. The new design at foursevenfive.com has a focus on bright, clear imagery and dynamic functionality aimed at appealing to building professionals, the company's core audience.
"We designed our site based on customer feedback," said John Druelinger, 475's Creative Director. "Our goal was to connect customers to the information and material they need in the fewest clicks possible, and to automate order checkout and tracking to ensure shipments are quick and easy. Fast turnaround is especially important to helping customers meet construction deadlines. We're very happy with the response thus far."
Features of the new site include:

Automatic discount pricing for bulk purchasing
Integrated blog and informational pages
Responsive mobile browsing
Shipment tracking
Event ticketing and automated calendar updates
Social media integration
Log of past orders for each customer
In addition to building materials, the site features valuable information about Passive House building, green materials, and building science. 475 was founded by architects interested in the science behind low-energy building, high performance insulation, and long-lasting airtight assemblies that protect against structural damage and mold. This interest has been a focal point of the company's monthly newsletter. "The 475 newsletter has proven itself time and again," said Peter Schneider, Energy Consultant for Efficiency Vermont, "this is a great resource." The updated foursevenfive.com reflects an emphasis on quality information availability.
Highlights of the provided knowledge resources are:

Free downloadable construction details and E-Books
Informational videos
Detailed blog posts on industry-specific interests
Events and training pages
Archives of past 475 newsletters and blog posts
The site features a variety of imported building products including triple-pane, thermal bridge free skylights from Lamilux, decentralized heat recovery ventilators from Lunos, and a wide variety of air sealing system components from German airtight building industry leader Pro Clima. "Pro Clima's selection of tapes are terrific and have clearly been engineered to fit the needs of the high performance building," says Jacob Deva Racusin, co-owner of New Frameworks Natural Building in Vermont. "It's a big help to be able to source the majority of our air barrier supplies from a single manufacturer."
Go to foursevenfive.com to see the new site design and to receive more information on Passive House, foam-free building systems, building science, and high performance building materials.
###
About 475 High Performance Building Supply
475 High Performance Building Supply (475) provides essential building knowledge and components. 475 was founded by architects, for architects, builders, engineers and other professionals. The name "475" is a reference to the heat demand requirement of the International Passive House Standard, 4.75 kiloBTUs per square foot per year - representing approximately a 90% reduction in heating energy demand from average building stock.