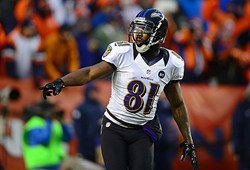 San Francisco, CA (PRWEB) August 03, 2013
When the San Francisco 49ers traded their sixth round pick for Anquan Boldin from the Baltimore Ravens, they did so for him to be the number two option behind Michael Crabtree. Crabtree, however, underwent surgery recently to repair his Achilles injury, and Boldin became the number one option. While Boldin is a great receiver for quarterback Colin Kaepernick, the 49ers are struggling for options behind him. Fortunately for the 49ers, Boldin is so far performing great in training camp. Boldin and Kaepernick are clicking very well together, and are slowly but surely becoming a great pair.
Although Boldin is a veteran and played on the Super Bowl championship team last year, he will most likely have to put more time into practices to be able to adjust to playing on a new team. While being on the same wavelength as Kaepernick is important, staying healthy is also essential for Boldin.
The wide receiver has played in the NFL for 10 years, and has been injury prone over all of them. If Boldin does not stay healthy, the 49ers are going to be in deeper trouble than they already find themselves in.
Over his career, Boldin has had over 1,000 yards in five different seasons. In 2012 with the Ravens, at age 32, the veteran had 921 yards and four touchdowns, which proves to be a great accomplishment. For choices behind Boldin, there are multiple receivers that are vying for a starting position. Some of those players include Kyle Williams, Chad Hall, and A.J. Jenkins. These players are all generally inexperienced though, meaning the 49ers are going to have a lot of work to do to find a second option receiver. The 49ers were especially lucky looking back on their trade for Boldin, and many are wondering how the Ravens could ever let him go. The 49ers and Ravens will not meet in this 2013 season, but that does not meant they will not come across each other in the playoffs.
To buy a ticket to a 49ers game and watch Boldin conquer the NFC West, visit http://www.49ers-Tickets.net. Customers can find tickets to any game they would like to see, and use the site's other great features while there. Tickets will never be overpriced, because http://www.49ers-Tickets.net does not charge for service fees. Fans can enjoy the 49ers social media hub to interact with other fans, or read up on current news on the 49ers active blog.