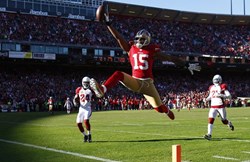 (PRWEB) November 19, 2013
The 49ers can make it the playoffs and ultimately return to the Super Bowl for a second chance this year, but it is not going to be easy.
After a great 5 game winning streak, the 49ers have lost their last two games in a row, but both by three points or less. The Niners dropped a heartbreaker to the Panthers last week, losing by just one point at home. This Sunday the team lost in the final minutes by a field goal to the New Orleans Saints, who are having a great comeback year themselves. At 6-4 and second in the NFC West to the Seahawks, the 49ers still have some tough games to get through, including a second against Seattle. After the regular season, the 49ers will have to win three playoff games on the road to contend for the championship.
The 49ers were one of the hottest teams in the NFL in the first half of the season, but now find themselves barely holding on to a possible last available playoff spot. The Seahawks will without a doubt take the NFC West, no questions asked. Seattle is 10-1 and one of the best teams in the league. If the 49ers want a shot at the Super Bowl, they will have to get there through being one of only two wild card entries.
With only two wild card spot available, the 49ers do have some competition. The NFL is crazy this year, and many teams are contenders. The Panthers are currently 6-3, and will play tonight against the Patriots. A win over New England would be absolutely glamorous for them, and with a win over the 49ers would give them the chance to go to the playoffs instead.
Some other teams that have a chance include Chicago and Detroit, who are both tied for first place right now in the NFC North. Also surprisingly, the Cardinals are 6-4, meaning any more losses for the 49ers may put the Cardinals ahead if they do well. This all brings a lot of pressure to the 49ers, a team that was supposed to be outstanding this season. They can still salvage their year, but it will include some tough wins. A victory over the Seahawks is key, as well as over Arizona on December 29th.
Ticket Monster is the best place to find San Francisco 49ers tickets and Super Bowl tickets. The site features an easy ready schedule, active blog, and social media fan hub! Ticket Monster offers 49ers tickets, as well as other NFL tickets for the lowest prices, with no service fee charges. Visit http://www.Ticketmonster.com or call 866-217-4777 today.