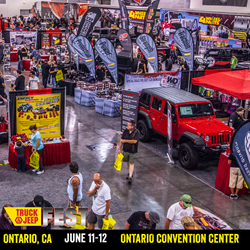 Each year we look forward to hosting Truck & Jeep Fest right here in our own backyard. This is our biggest event of the year and the crowds just keep growing.
Compton, California (PRWEB) June 09, 2016
4 Wheel Parts, the global leader in off-road performance product sales and installation , is staging its next Truck & Jeep Fest in Ontario, California this weekend June 11-12. North America's largest touring off-road show visits the Ontario Convention Center featuring an impressive exhibition of custom trucks, Jeeps and 4x4s while attendees will receive factory-direct pricing along with hourly product giveaways and installation discounts.
The Ontario Convention Center is located south of Interstate 10, adjacent to the Ontario International Airport, with the event encompassing over 100,000 sq. ft. of exhibition space. 4 Wheel Parts will be stocking the state-of-the-art facility with over $500,000 of on-site inventory while many of the leading manufacturer representatives on hand to answer customers questions. Also staffing the event and assisting customers will be expert advisors from 4 Wheel Parts has 7 retail locations in the nearby Southern California area including stores in Riverside, West Covina and Santa Ana.
"Each year we look forward to hosting Truck & Jeep Fest right here in our own backyard," says 4 Wheel Parts Advertising Director, Brent Goegebuer. "This is our biggest event of the year and the crowds just keep growing. With so many truck, Jeep and SUV enthusiasts here in Southern California, this is a tremendous opportunity for them to take advantage of some of the year's best pricing while seeing the latest innovations in off-road performance firsthand."
On Saturday, local NBC 4 meteorologists Shanna Mendiola and Anthony Yanez alongside the TV station's mobile weather center Jeep, the NBC 4x4 Caster, will be onsite from 10 a.m. to 1 p.m. to meet and greet attendees. The 4x4 Caster is a JK Jeep that functions as a mobile newsroom, complete with satellite, a big screen TV and weather-measuring instruments.
Off-road enthusiasts who make any purchase at the Truck & Jeep Fest will receive free admission to the 4 Wheel Parts Ultra4 Grand Prix off-road race starting at 5:30 p.m. on Saturday at Glen Helen Raceway.
Ontario is the sixth stop of the traveling show that boasts custom trucks and Jeeps, manufacturer reps, installation discounts, aftermarket product demonstrations and a scratch and dent section. This year's tour will also include visits to the cities of Denver, Colorado and Orlando, Florida with an added show in Columbiana, Ohio. Sites that have hosted Truck & Jeep Fests this year are Dallas, Texas, San Mateo, California, Honolulu, Hawaii, Puyallup, Washington and Edmonton, Canada.
What: Ontario Truck & Jeep Fest – Free Admission
Where: 2000 E. Convention Center Way
Ontario, CA 91764
When: Saturday, June 11, 2016 10 a.m. - 4 p.m.
Sunday, June 12, 2016 11 a.m. - 4 p.m.
About 4 Wheel Parts 4 Wheel Parts is the global leader in truck, Jeep, SUV and off-road performance products. With 75 locations across the U.S. and Canada and growing, 4 Wheel Parts Service Centers install all the products they sell. Maintaining the nation's largest inventory of Goodyear DuraTrac tires, wheels and Jeep accessories, 4 Wheel Parts serves customers across the country and around the globe. Life is Better Off-Road™. Visit them at 4wheelparts.com or call toll-free 877-474-4821.