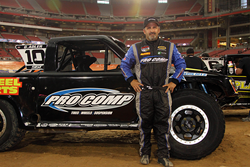 I plan to put the 4 Wheel Parts/Toyo Tires truck on the podium and come home with an X Games medal!
Compton, California (PRWEB) June 03, 2014
The X Games are roaring into Austin, TX on Thursday, June 5 for four days of extreme sports; the cherry on top of a radical weekend being the Stadium Super Trucks debut on Sunday, June 8. 4 Wheel Parts CEO Greg Adler will be suiting up for super truck victory alongside Team 4 Wheel Parts racer Robby Gordon.
Adler says, "I'm excited to get back behind the wheel of the SSTs. I never thought I would compete in X Games, but it should prove to be a great venue … I plan to put the 4 Wheel Parts/Toyo Tires truck on the podium and come home with an X Games medal!"
The SSTs are bringing the heat with 600 horsepower and the ability to reach speeds upwards of 130 miles per hour. The track will feature plenty of man-made jumps which will catapult the trucks nearly 20 feet off the ground. All of this intensity comes out of trucks modeled from their remote-controlled counterparts.
Adler has raced SST in the past, but his roots are in the dirt with the Lucas Oil Off Road Racing Series and the King of the Hammers races. In LOORRS, Adler races Pro 2 and Pro 4 trucks and has achieved three podium finishes so far this season.
Without a doubt, it will be a tremendous race featuring known athletes like Adler, Gordon and BJ Baldwin competing for gold. The final on Sunday afternoon will be a competition between 16 racers over 20 high-speed laps.
The games are being held at Austin's Circuit of the Americas. This will be the first year the X Games are housed in Austin, which is to be their location until 2017.
About 4 Wheel Parts: 4 Wheel Parts is a specialized retailer of aftermarket 4x4 and off-road parts for enthusiasts. At their 64 locations across North America, 4 Wheel Parts not only installs the products it sells, it also operates a robust mail-order and e-commerce distribution network to serve customers around the country and throughout the world. 4 Wheel Parts houses North America's largest inventory of truck and Jeep parts, such as Jeep lift kits, suspension systems, nerf bars and more. Their toll-free order number is 877-474-4821.